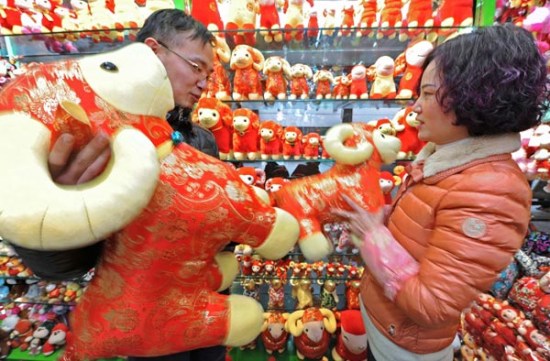 A shop owner in Yiwu, the largest wholesale market for small commodities in Zhejiang province, shows to a customer mascots relating to the Year of the Ram. Yiwu has been increasing trade links with countries along the Silk Road Economic Belt and 21st Century Maritime Silk Road. (Photo/Xinhua)
China will take decisive measures to diversify trade, investment and bilateral ties with countries along the "One Belt, One Road" and enable easier domestic market access for foreign companies, the Ministry of Commerce said on Tuesday.
The Silk Road Economic Belt and 21st Century Maritime Silk Road were initiatives put forward by President Xi Jinping in 2013, with the purpose of rejuvenating the two ancient trading routes and further opening up the markets in a mutually beneficial manner.
Shen Danyang, spokesman for the ministry, said: "China will rely on cross-border international cooperation zones and centers such as Horgos Port, the country's westernmost land port in the Xinjiang Uygur autonomous region and bordering Kazakhstan, to build a better platform to vary investment categories and create jobs with various nations, as well as promote currency exchanges.
Eager to promote regional integration and common development, China has been keen to offer more financial, economic and project assistance to its partner nations through programs such as regional connectivity, technical exchanges and building financial institutions.
"China is enhancing its contact with various trade ministries and commerce committees to launch a number of infrastructure, manufacturing and service projects along the two trading routes," said Shen.
The world's second-largest economy committed $50 billion in October to the Asian Infrastructure Investment Bank, and so far 42 countries had joined or applied to join as founding members of the bank. A final decision on the founding members will be made on April 12. The bank's long-term goal is to raise $100 billion for future projects.
The AIIB will focus on lending money for Asian infrastructure construction and to strengthen the global economic recovery. It will integrate the fiscal ability of its founder members and boost financial leverage to speed investment.
Shen said establishing joint free trade zones will not only increase flexibility with countries along the "One Belt, One Road", but also provide larger platforms to improve service opening-up and industrial upgrading for pillar manufacturers in both China and abroad.
Ren Hongbin, executive vice-president of the Beijing-based Chinese Academy of International Trade and Economic Cooperation, the think tank of the Ministry of Commerce, said: "The strong 'going-out' desire for China to export mature industries, invest abroad and diversify its foreign exchange reserves has already occurred along these two trading passages."
According to Ren, China has strong capabilities in capital and technical expertise, while many of its trading partners are still incapable of raising sufficient financial, technological and professional resources to complete big-ticket projects.
With shorter transport times than maritime freight, about seven Chinese cities have began to use international rail lines over the past three years, which link many parts of China to Central Asia and Europe, to improve regional connectivity, technology support and trade on the Silk Road Economic Belt.
Zhao Zhongxiu, a trade professor at the University of International Business and Economics, said: "Since the investment will be focused on roads, railways, ports and airports, it should benefit all parties due to lower trade and project costs."
Zhao said investing in infrastructure along the "One Belt, One Road" will serve to develop new export markets for China, lead to long-term returns on its foreign reserves and act as another channel to internationalize the Chinese currency.