Sina Weibo launches online payment service
2014-01-08 09:40
Global Times
Web Editor: Li Yan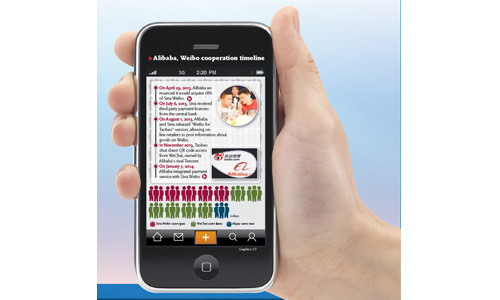 Graphics: GT
Sina Weibo, a Chinese Twitter-like microblog platform, announced Tuesday that it has launched an online payment service in partnership with the country's leading e-payment platform Alipay.
The payment service, dubbed "Weibo Zhifu," is now accessible to users through an app and a website. After binding their accounts to Alipay, Weibo users can buy things and pay bills online easier just by inputting passwords. They can also add retailers as friends on Sina Weibo and share the links of their products.
According to a press release Alipay e-mailed to the Global Times Tuesday, currently there are more than 400,000 retailers promoting and selling products via their own Weibo accounts.
The introduction of online payment, especially on the mobile front, will further strengthen Sina Weibo's social marketing edges, Wang Gaofei, general manager of Sina Weibo, said in the press release.
The move came less than a year after the country's e-commerce leader Alibaba announced a purchase of 18 percent stake for $586 million in Sina Weibo on April 29, 2013.
Early in August 2013, Taobao, a consumer-to-consumer (C2C) e-commerce arm operated by Alibaba, unveiled a plan to allow users to link their accounts with those of Sina Weibo.
Alibaba expects strong cooperation with Sina Weibo to bring the company more users, and the latter's social networking feature is important for Alipay to maintain its leadership in the promising domestic mobile Internet payment sector, Wang Weidong, an industry analyst at Shanghai-based iResearch Consulting Group, told the Global Times Tuesday.
Wang from Sina disclosed in the press release that the company's Weibo service has already been subscribed by more than 500 million individuals.
China's mobile payment market is expected to surpass 800 billion yuan ($132.2 billion) in 2013, five times that of 2012, according to a report released by the Payment and Clearing Association of China in November.
Data from iResearch showed in November that Alipay's mobile payment service accounted for 78.4 percent of the market in the third quarter of 2013, followed by Lakala with 11.5 percent and Tenpay with 4.2 percent.
Although this booming market has already been predominantly controlled by Alipay, Alibaba should still be aware of the potential threat from firms like Tencent, Zhang Yi, CEO of Shenzhen-based Internet research company iiMedia Research, told the Global Times Tuesday.
Tencent, a leading domestic Internet company, has already combined social networking with online payment last August through applying mobile payment services to the company's instant messaging app WeChat, which the iResearch analyst believed has a large user base of over 600 million.
At a press conference held by WeChat on November 18, 2013, Zhang Ying, a deputy manager at WeChat's product department, said he was "confident and satisfied" with the development of WeChat payment services, though he did not reveal the number of people using it.
The latest version of WeChat offers links to products on online B2C marketplace yixun.com, which formed a strategic alliance with Tencent in 2010.
Alibaba has already felt some impact from WeChat's development.
The company said in an interview with the Global Times in November that Taobao links cannot be opened via WeChat anymore, which analysts think will pave the way for the commercialization of Sina Weibo.
It is inevitable for companies to face strong competitors, and those that can provide better user experiences and be more widely used by online as well as offline retailers will stand out, noted Zhang.