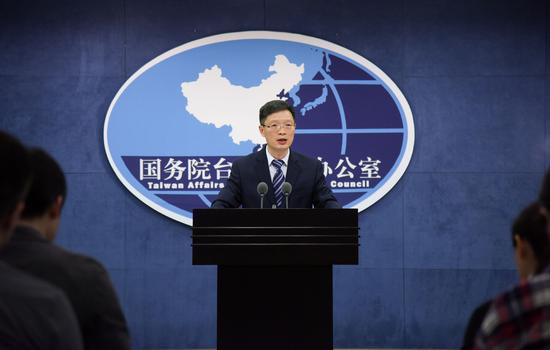 An Fengshan, spokesman for the Taiwan Affairs Office of the State Council, answers questions at a press conference in Beijing on March 28, 2018. (Photo/Xinhua)
Beijing said on Tuesday that rejecting a Taiwan-related proposal in the World Health Assembly has proved that the one-China principle is widely accepted by the world and represents an irresistible trend.
The proposal to invite Taiwan to be an observer to the 71st assembly, suggested as a supplementary agenda item, was refused on Monday. The WHA is the decision-making body of the World Health Organization.
An Fengshan, spokesman for the Taiwan Affairs Office of the State Council, said on Tuesday that China praises the WHO's dealing with Taiwan-related issues according to the one-China principle as stipulated in resolutions of the UN General Assembly and WHA.
China welcomes such a "clear-cut" decision, Foreign Ministry spokesman Lu Kang said at a daily news conference.
He said the Chinese government will properly handle Taiwan's participation in international events in accordance with the one-China principle.
The annual assembly, from Monday to Saturday in Geneva, is expected to unveil a plan aiming to benefit 3 billion people worldwide with better healthcare over the next five years.
Nearly 4,000 delegates from the WHO's 194 member states and partner organizations are attending the assembly.
Experts said Taiwan's current Democratic Progressive Party administration should be held responsible for the island's absence from the ongoing assembly.
Chu Shin-min, a professor at Chengchi University's department of diplomacy in Taipei, said at a news conference on Monday that the key to Taiwan's participation in international organizations is recognition of the 1992 Consensus, which embodies the one-China principle but has been rejected by the DPP administration.
The DPP administration is deceiving itself, as peaceful and stable cross-Straits relations are the foundation for Taiwan's participation, Chu said.
From 2009 to 2016, Taiwan participated in the WHA under observer status as "Chinese Taipei", but has not been invited since 2017, when the DPP came to power.
Pang Chien-kuo, a professor at Taipei's Chinese Culture University, said DPP protests over the WHO's decision to deny Taiwan's participation were merely cloaks to hide its incompetence and mislead the public.
Chen Yi-hsin, a chaired professor at the Department of Political Science at the university, said the expansion of Taiwan's international space can be achievable only through improving cross-Straits relations.