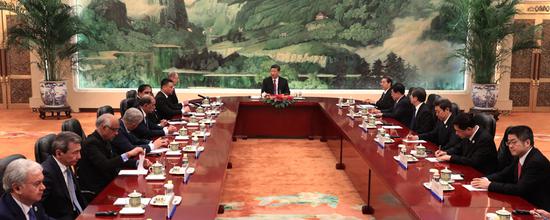 President Xi Jinping meets with heads of foreign delegations attending the 13th meeting of Security Council Secretaries of the Shanghai Cooperation Organization at the Great Hall of the People in Beijing on Tuesday. He called for moving SCO security cooperation forward to a new level. (WU ZHIYI / CHINA DAILY)
President says SCO nations working together on security will benefit region
President Xi Jinping called on Tuesday for joint efforts with members of the Shanghai Cooperation Organization to enhance security cooperation and strengthen their capacity to maintain stability.
Xi made the statement while meeting with representatives to the 13th meeting of Security Council Secretaries of the SCO at the Great Hall of the People in Beijing.
Maintaining regional security and stability has been the top priority of the SCO since it was founded, Xi said, adding that members have expanded areas of cooperation and enriched their experience in cooperation.
The SCO members have fought the "three evil forces" of terrorism, separatism and extremism; prevented the overflow of negative effects from hot issues; and made important contributions to keeping regional peace, development and prosperity, Xi said.
The president pointed out that when the SCO accepted its new members Pakistan and India last year, it gained more potential for cooperation and more expectations from the international community.
Numerous challenges remain, including the "three evil forces" plus drug smuggling and cross-border organized crime, each of which threatens the region, Xi said, adding that the risks require SCO members to handle the issues properly through correct judgments.
The SCO members should uphold the strategic direction of security cooperation, continue to boost mutual strategic trust, enhance coordination of policy, uphold justice and jointly push the resolution of regional hot issues through political and diplomatic measures, Xi said.
Xi called on the other SCO members to build up their capacity for joint security operations and build an efficient law-enforcement cooperation network.
China will continue to integrate its national security with regional security; work with SCO members to build a new type of international relations with features of mutual respect, justice and win-win cooperation; and push to build a community of shared future for mankind, Xi said.
Nikolai Patrushev, secretary of the Security Council of Russia, and Abdil Segizbaev, chairman of Kyrgyzstan's State Committee for National Security, delivered speeches at the meeting. They extended their leaders' greetings to Xi and expressed gratitude for his attention to SCO security cooperation.
The SCO security officials discussed issues with Xi such as fighting terrorism and the "three evil forces", beefing up information security and maintaining social stability, they said.
State Councilor and Minister of Public Security Zhao Kezhi told reporters on Tuesday that the representatives reached important consensuses during the meeting.
The relevant sides have agreed to submit such documents as enhancing cooperation in fighting the "three evil forces" to the SCO summit in Qingdao for further approval, he said.