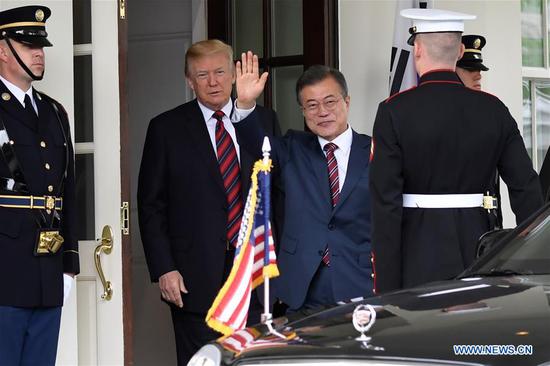 U.S. President Donald Trump (2nd L) welcomes visiting President of the Republic of Korea (ROK) Moon Jae-in (3rd L) at the White House in Washington D.C., the United States, on May 22, 2018. (Xinhua/Yang Chenglin)
U.S. President Donald Trump said on Tuesday his scheduled meeting with the top leader of the Democratic People's Republic of Korea (DPRK) Kim Jong Un may be delayed.
"It may not work out for June 12," Trump told reporters at the White House during his meeting with visiting South Korean President Moon Jae-in, referring to the date of his planned meeting with Kim.
"If it does not happen, maybe it will happen later. Maybe it will happen at a different time. We will see," said Trump.
He added that "there are certain conditions that we want. And I think we'll get those conditions. And if we don't, we won't have the meeting."
However, he said that Kim was "absolutely very serious" about the Peninsula denuclearization.
"I do think he's serious. I think he would like to see that happen. At the same time, he's going into a future that's different from what they've had," said Trump.
The DPRK warned last week that Pyongyang would have to reconsider whether to attend the Singapore meeting if the United States "only wants to press the DPRK to abandon its nuclear arsenal."
Pyongyang suspended inter-Korean talks last Wednesday to protest a large-scale U.S.-South Korea air drill, and urged South Korea to stop its joint military drills with the United States.
Both the White House and the U.S. State Department said last week that they will continue to prepare for the meeting between Trump and Kim.
U.S. national security adviser John Bolton put the DPRK on alert recently with coercive remarks suggesting the country's denuclearization should follow the case of Libyan former leader Muammar Gaddafi, who gave up atomic weapons and was later killed in a U.S.-backed uprising.
Trump on Tuesday promised that Kim will be safe and stay in his country, and the DPRK will be prosperous after its denuclearization.
"We will guarantee his safety. And we've talked about that from the beginning. He will be safe. He will be happy. His country will be rich. His country will be hardworking and very prosperous," he said.