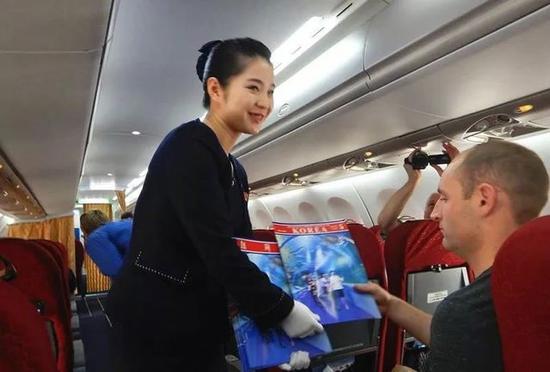 A crew member shows a magazine to a foreign journalist on a plane carrying reporters to the DPRK to watch the closure of a nuclear site on May 22, 2018. /CCTV Photo
The Democratic People's Republic of Korea (DPRK) has invited a handful of international media to witness the dismantling of the Punggye-ri nuclear site, which is scheduled from Wednesday to Friday. The journalists arrived in the DPRK moments ago and CGTN is on the DPRK's invitation list.
AP senior video journalist Rafael Wober, who has been reporting from the DPRK for a long time, was at Wonsan Kalma airport, where the journalists have just arrived.
"This is Wonsan's Kalma airport. We haven't had much time here, processing huge amounts of luggage that we brought in. We're going to go to the Kalma Hotel. We don't know when we're going to get to the train to go the nuclear test site. But this is really the arrival of the foreign media group flown in from Beijing just today, and then, the start of the journey to North Korea's (DPRK) nuclear test site," said Wober.
Dozens of foreign journalists including a team from CGTN left Beijing Capital International Airport on Tuesday morning. Their departure came under flashing cameras from a huge crowd of media outlets from across the world.
Pyongyang had previously said it planned to invite experts and journalists from countries including the U.S., the UK, Russia, the Republic of Korea (ROK) and China for the shutdown of its nuclear test site. On Monday, however, Pyongyang denied the access of journalists from Seoul.
The denial of access came days after the DPRK dropped out of a high-level talk with the ROK over the U.S.-ROK military exercises.
Seoul expressed regret over Pyongyang's move, saying "Nonetheless, the government pays due attention to the fact that the North's pledge to dismantle the Punggye-ri nuclear test site, an initial measure for denuclearisation, is proceeding as planned, and expects that such action to lead to the successful hosting of the North Korea-U.S. (DPRK) summit."