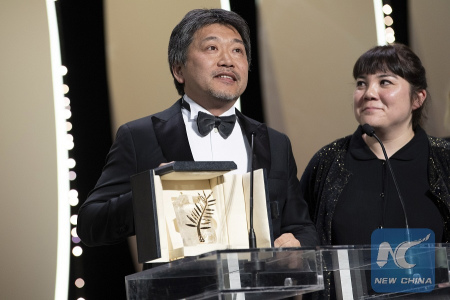 Japanese director Hirokazu Kore-eda (L) of the film "Shoplifters" which was awarded the Palme d'or attends the awarding ceremony at the 71st Cannes Film Festival in Cannes, France, on May 19, 2018. (Xinhua/Ning Da)
Japanese film "Shoplifters", portrait of a poor and improvised family directed by director Hirokazu Kore-eda, won Saturday evening the Palme d'Or of the 71st Cannes Film Festival.
This film tells the story of an unusual family. Osamu and his son come across a little girl in the freezing cold. At first reluctant to shelter the girl, Osamu's wife agrees to take care of her after learning of the hardships she faces.
Although the family is poor, barely making enough money to survive through petty crime, they seem to live happily together until an unforeseen incident reveals hidden secrets, testing the bonds that unite them.
Hirokazu Kore-eda has been in Competition at Cannes Festival four times before, and won in 2013 the Jury Prize with "Like father, like son".
The Grand Prix, often seen as the runner-up to the Palme d'Or, went to American director Spike Lee for "BlacKkKlansman" and the Jury Prize was given to Lebanese director Nadine Labaki for "Capernaum".
Two films have been awarded the best screenplay award: "Three Faces" and "Happy as Lazzaro". Other winners at the 71st edition of the Cannes Film Festival include Samal Yeslyamova for Best Actress in the Russian Sergey Dvortsevoy-directed "My little one"; Italian Marcello Fonte for Best Actor for "Dogman"; and the Polish director Pawel Pawlikowski for Best Director for his film "Cold war".
This year, the Jury decided to give Special Palme d'Or to Jean-Luc Godard for "Image Book".
In the shorts category, Jury Special Mention was awarded to Chinese Wei Shujun for "On the border".
The 71st Cannes Film Festival has a strong Chinese presence. China's cinema is represented in the official competition by "Ash is purest white" of Jia Zhangke, and the film "Long Day's Journey into Night" of Chinese art film director Bi Gan was chosen as an official selection for the "Un Certain Regard" category.
With her short film "The Storms in Our Blood," Chinese director Shen Di, from the Shanghai Theater Academy, on Thursday won the second prize in Cinefondation category.
A total of 21 films were competing for the Palme d'or of the 71st Cannes Film Festival, which runs from May 8 to 19.