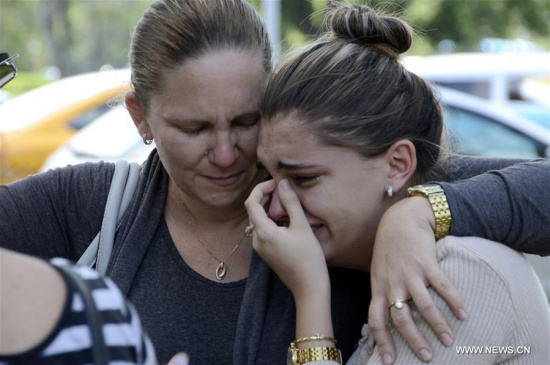 Relatives of the victims of the airplane crash weep outside the Institute of Legal Medicine of Havana in Havana, Cuba, on May 19, 2018. Cuba confirms here on Saturday that 110 were dead from Friday's Boeing 737 crash close to Havana's Jose Marti International Airport. (Xinhua/Joaquin Hernandez)
Twenty of the 110 victims of Friday's fatal plane crash in Cuba have been identified and delivered to their families for burial, a top forensics official said on Sunday.
Sergio Rabel, director of Havana's Legal Medicine Institute, told reporters at a press conference that a large group of experts were working round the clock to conclude the complex process of identifying the remains.
"Up to now, we have been able to identify 20 bodies and notified their family members," said Rabel, adding five new victims were identified between Saturday night and Sunday morning.
Rescue workers recovered 109 bodies from the disaster site, where the Boeing 737 plane crashed and burst into flames shortly after take-off from Havana's Jose Marti International airport on Friday.
"Last night we finished the revision of all 109 bodies along with the belongings they had on them, which will help us to identify the victims faster," Rabel said.
The plane was carrying a total of 113 people, including six Mexican crew members, on a domestic Cubana airlines flight between the capital and the eastern city of Holguin.
Almost all of the passengers were Cuban nationals, three of whom survived, but are in serious condition.
Regarding the five foreign passengers -- two Argentinians, one Mexican and two foreign residents in Cuba -- Rabel said officials have been in contact with the respective embassies and consulates.
The identification process of the victims could take up to 30 days to conclude because of the state of the bodies, most with severe burns and injuries, said Rabel.
Officials don't yet know what caused the demise of the plane, which was rented from Mexican charter airline Damojh.
Cuban officials said they have found one of the two black boxes from the plane. Black box holds key flight data and information about what happened to the plane.
The incident is Cuba's worst air disaster in decades, and two days of national mourning began on Saturday.