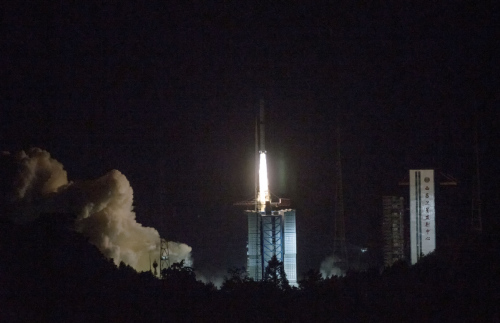 A Long March-4C rocket carrying a relay satellite, named Queqiao, is launched at 5:28 a.m. Beijing Time from Southwest China's Xichang Satellite Launch Center, May 21, 2018.[Photo/Xinhua]
China launched a relay satellite into space on Monday morning as the first step in its Chang'e 4 lunar mission.
The satellite, named Queqiao after a legendary bridge in the Milky Way, was lifted atop a Long March 4C carrier rocket from the Xichang Satellite Launch Center in Sichuan province, according to a statement from the China National Space Administration.
It was placed into an Earth-moon transfer orbit and has started a journey toward a halo orbit near the Earth-moon L2 Lagrangian point. From there it will relay communication signals between Earth and the Chang'e 4 lunar probe, which is scheduled to land on the moon around the end of this year, the administration said.
Developed by the China Academy of Space Technology under the China Aerospace Science and Technology Corp, Queqiao weighs more than 400 kilograms and has a designed life of three years. The satellite has a large umbrella antenna with a diameter of nearly 5 meters, enabling it to transfer data from Chang'e 4 to ground control in real-time.
An artist's illustration of China's Queqiao relay satellite, which will relay data between controllers on Earth and China's Chang'e 4 lander-rover pair on the moon's far side. (Photo/China National Space Administration)
China plans to launch the Chang'e 4 probe before the end of 2018 and land it on the far side of the moon, which has yet to be explored by any space program.
The Chang'e 4 mission will enable scientists to learn what they haven't known about the moon. They can also take advantage of the far side's shield against Earth's interference to make clearer observations into deep space, according to Bao Weimin, head of science and technology at China Aerospace Science and Technology Corp.