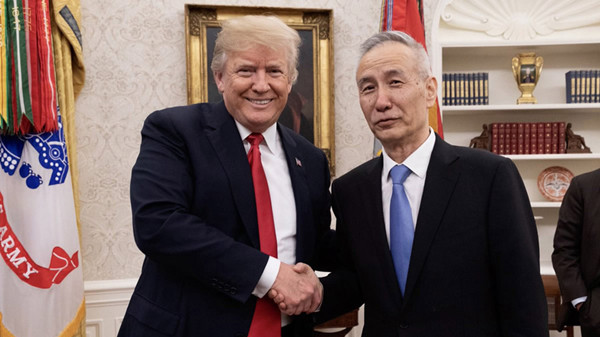 US President Donald Trump meets with President Xi Jinping's special envoy and Vice-Premier Liu He at the White House on May 17, 2018. (Photo/Donald Trump's Twitter account)
Continuing China-US talks on trade, economic issues called constructive
The Foreign Ministry dismissed a rumor on Friday that China had offered to cut its trade surplus with the United States by $200 billion, saying the trade talks with the United States have so far been constructive and are still underway.
Ministry spokesman Lu Kang said the goal of the ongoing consultations between the two countries is to understand both sides' concerns, and the talks are being carried out with mutual understanding and accommodation to move the bilateral economic and trade relationship in a win-win direction.
Vice-Premier Liu He is leading a delegation for a new round of trade talks with the US in Washington. US President Donald Trump met with Liu in the White House Oval Office on Thursday, exchanging views on bilateral economic and trade relations.
Liu, as a special envoy of President Xi Jinping, extended warm greetings from Xi and his wife, Peng Liyuan, to Trump and his wife, Melania.
Trump expressed his thanks for the greetings and asked Liu to convey greetings from him and his wife to Xi and Peng.
Liu, also a member of the Political Bureau of the Communist Party of China Central Committee, told Trump that China-US relations have achieved important and positive progress under the guidance of the two heads of state.
He said bilateral relations are now at an important stage and both sides should implement the important consensus reached by the two leaders, meet each other halfway, respect each other and make concerted efforts to promote a healthy and stable bilateral relationship.
Trump said he highly values the good working relationship and personal friendship with President Xi and is willing to continue to maintain close contact with Xi to push forward US-China relations.
During the meeting, Trump and Liu engaged in an in-depth exchange of views on bilateral economic and trade relations. Liu said his visit this time was to follow up on the consensus reached by the two heads of state and to continue deepening the exchange with the US on bilateral economic and trade issues.
Liu said China is willing to work with the US to properly handle and resolve bilateral economic and trade issues based on the principle of mutual respect and mutual benefit, and to ensure that bilateral economic and trade cooperation continues to be the ballast and booster of China-US relations.
Trump said it's very important for the US and China to maintain a good cooperative relationship in the economic and trade fields. He said both the US and China have good economic momentum and enormous market potential, adding that there is a huge space for economic and trade cooperation.
The US president also said he hopes the two economic teams will work together to actively resolve economic and trade issues. He said the two countries should strengthen trade and investment cooperation in energy and manufacturing, expand agricultural trade and market access and bolster cooperation in protecting intellectual property rights to bring more practical benefits to the two peoples.
US Vice-President Mike Pence, Treasury Secretary Steven Mnuchin, Commerce Secretary Wilbur Ross, US Trade Representative Robert Lighthizer and several other US officials also attended the meeting.