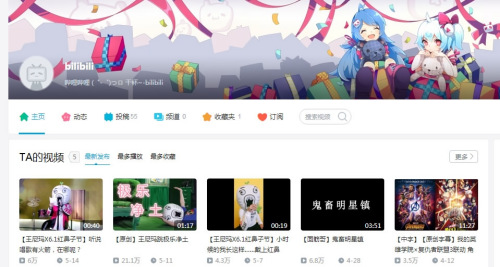 Rage Comic's contents once have been watched over tens of thousands of times on averagely. /Screenshot from Bilibili.com
A popular comic in China, Rage Comic, has been taken down from the country's social media and video streaming platforms on Thursday after an episode was criticized of violating China's law to protect the honor and reputation of heroes and martyrs.
The official website of the comic was also shut down.
According to Beijing Youth, a 58-second-long fragment video of Rage Comic was found by a netizen that had likened the anchor, Wang Nima, to Dong Cunrui, a martyr in China's Civil War. Soon after that, Toutiao, a video and information platform in China, removed the video and closed the show's account.
Then, a stern and specific rebuke from Cyberspace Administration of China (CAC), China's top Internet regulator, followed.
"CAC, associated with other regulators and authorities, summoned the executives of several Internet platform companies this afternoon and asked them to strictly apply the cyberspace regulation," CAC said in a statement on the evening of Thursday. Meanwhile, some of China's most influential Internet companies, including social media platform Weibo and several video streamers like iQiyi and Youku, announced they had shut down Rage Comic's account from their platforms and deleted all of the contents.
Weibo, China's Twitter-like online forum, announced that it had closed 16 accounts which contained contents disrespecting national heroes.
"According to the law to protect the reputation and honor of heroes and martyrs and the Cybersecurity Law, to establish and maintain a clean cyberspace and provide better content, Weibo will delete the content and close the accounts found violating the law," Weibo's administrator announced.
iQiyi, one of the biggest video streamers in China, announced that it has deleted all of the contents produced by Rage Comic since some of the contents failed to respect the national hero.
"It is every Internet company's responsibility to protect and respect the national hero," iQiyi said in the statement. "We will strengthen our system for screening videos and the censorship."
Ren Jian, the chief executive of the company that operates the company owning Rage Comic, issued an apology statement in the night of Thursday.
"The company is very grateful to the media and fans' supervision and criticizing, so that we can see our deficiency clearly and do better in the future."
A law to protect the reputation and honor of heroes and martyrs had taken effect on May 1. The law, to promote patriotism and socialist core values, bans activities that defame heroes and martyrs or distort and diminish their deeds.