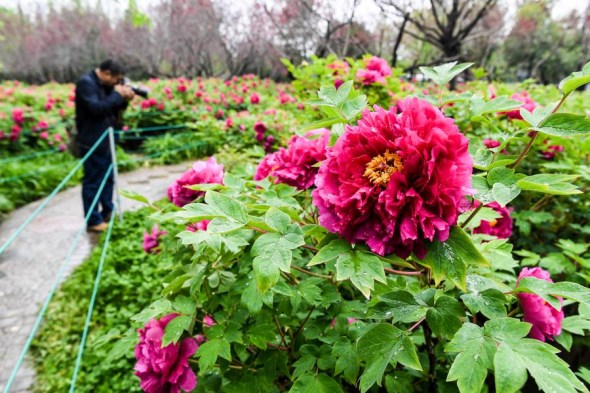 A man takes pictures of flowers at a botanical garden in Luoyang, Central China's Henan province on April 10, 2017. (Photo/ Xinhua)
Luoyang, China's city of peonies, exported 17 million yuan ($2.68 million) worth of the flowers in 2017, official data show.
Peonies from this ancient city in Central China's Henan province attract enthusiasts from around the world, and the flowers are being exported abroad at a fast pace.
Last year, Luoyang exported 500,000 peony and herbaceous peony seedlings, as well as 1.5 million cut flowers to markets including the United States, Europe, Australia, Southeast Asia and the Middle East, according to the customs office in the provincial capital Zhengzhou.
Luoyang has been growing peonies for more than 1,500 years. The flowers are best known for their luxuriant blossom, which symbolizes prosperity and wealth. The peonies are in full bloom each year from mid-April to mid-May, which is the date of the annual Luoyang Peony Festival.
Demand for the city's fresh-cut peonies from home and abroad amounts to hundreds of millions of the flowers each year. China's peony exports account for more than 70 percent of the world's total, according to Peony Evening News.
"Fresh-cut peony flowers are gaining popularity among foreigners as gifts. Some peony seedlings being exported were planted in local courtyards," said Fu Zhenglin, chairman of Luoyang Shenzhou Peony Co Ltd, a major flower growing enterprise.
"We have already set up peony exhibitions in Australia and the US. In the future, we will cooperate with economies participating in the Belt and Road Initiative to establish more peony cultural parks, which will share peony tea and other creative products with customers from more countries and regions," Fu said.
The company has signed a deal with several Australian distributors to sell 1 million peonies and Chinese herbaceous peonies to Australian customers.
"In order to pass the quarantine inspection of Australia, we have translated Australian standards and import regulations on cut flowers, and offered training to flower farmers since last year," Guo Xueliang, head of Luoyang's entry-exit inspection and quarantine bureau, was quoted as saying by Xinhua News Agency.
With some 33,000 people in the trade, Luoyang exports about 100,000 peonies and herbaceous peonies to foreign countries and regions each year. That number is expected to soar to 20 million in the next two to three years.