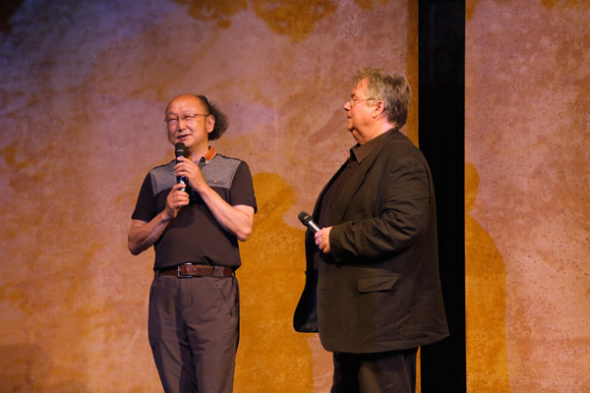 Playwright Wei Jin (left) and composer Enjott Schneider share behind-the-scene stories at a news conference in Beijing on May 14, 2018. (Photo provided to chinadaily.com.cn)
Talking with media on Monday, composer Schneider said he has used traditional Chinese instruments to add an Eastern touch into the Western story-telling style, such as erhu (a two-stringed bowed instrument), flute and pipa (a four-stringed instrument). The show's music will be played by Tianjin Symphony Orchestra under the baton of Chinese Grammy-winning conductor Tang Mumei.
Sharing the initiatives of making the show, Li Jinsheng, president of the China Arts and Entertainment Group, said, "We use 'opera', a Western performing style, to tell a story that happened in [ancient] China. The start of the project itself is bold and innovative." The Beijing-based company co-produced the play with CPAA Theatres, Guangzhou Opera House, Silk Road International League of Theatres and China National Arts Fund.
The biggest challenge facing the international players is apparently singing in Chinese.
"While singing in Chinese, you actually have to change your techniques," said tenor and leading actor Peter Lodahl, who only started to learn Chinese while preparing the show. He illustrated the difficulties with examples of Chinese phonetic symbols that don't exist in Italian, such as yu and ri. "I have to learn the phonetics, the sentences and then work closely on the details."
Produced by Guangzhou Opera House, Marco Polo took three years to finish, with investment of nearly 10 million yuan ($157,300), according to its organizers. The play was a big success when it was debuted on May 4 in Guangzhou, capital of South China's Guangdong province. Its box office totaled 1.5 million yuan ($240,000).
If you go:
7:30 pm, May 16, 18-19. Tiaoqiao Performing Arts Center, No 9 Building, Tianqiao South Street, Xicheng district (opposite Beijing Museum of Natural History). 400-635-3355.