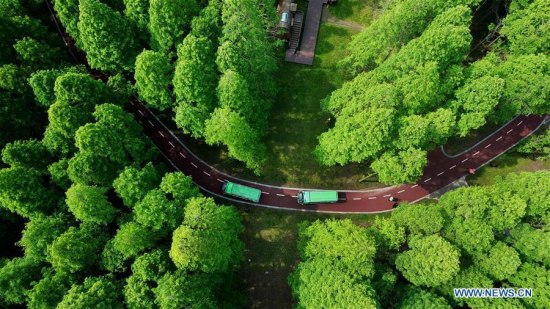 This aerial photo taken on May 13, 2018 shows a scenery of the Yellow Sea National Forest Park in Dongtai, east China's Jiangsu Province. (Xinhua/Xu Congjun)
China's central environmental inspectors have pushed for the addressing of problems found in seven provincial regions, the environmental authority said Tuesday.
By the end of April, local governments in areas including Beijing, Shanghai, Chongqing and Gansu had completed 70 percent of 493 improvement tasks set by inspectors, with the remainder underway, according to the Ministry of Ecology and Environment.
A series of entrenched problems were solved, the ministry said.
Chongqing Municipality established an environmental negative list to ban new heavy-chemical projects less than 1 km away from the Yangtze River, while Gansu earmarked around 2.3 billion yuan (around 360 million U.S. dollars) for environmental restoration in the Qilian Mountains.
Despite the progress, more efforts should be made to speed up unfinished tasks, the ministry said, citing closure of illegal coal mines, increasing wind power projects and vowing measures such as more flexible and targeted inspections.