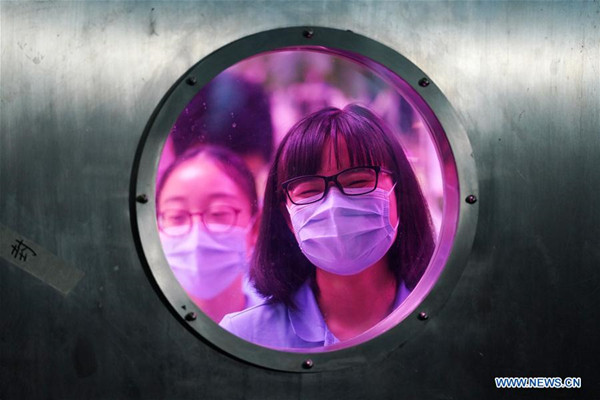 Volunteers prepare to leave the Yuegong-1, or Lunar Palace 1, at Beihang University in Beijing, capital of China, May 15, 2018. Chinese volunteers have completed a one-year test living in a simulated space lab in Beijing, setting a new record for the longest stay in a self-contained cabin. (Xinhua/Ju Huanzong)
Chinese volunteers have completed a one-year test living in a simulated space lab in Beijing, setting a new record for the longest stay in a self-contained cabin.
Four students, two males and two females, emerged from the Yuegong-1, or Lunar Palace 1, at Beihang University to the applause of academicians, researchers and fellow students Tuesday.
The total length of the test, which started on May 10 last year, was 370 days, with the third stage accounting for 110 days.
Liu Hong, chief designer of Yuegong-1, said the test marked the longest stay in a bioregenerative life support system (BLSS), in which humans, animals, plants and microorganisms co-exist in a closed environment, simulating a lunar base. Oxygen, water and food are recycled within the BLSS, creating an Earth-like environment.
"The system is 98 percent self-sufficient. It has been stable and effective in providing life support for its passengers," she said.
A total of eight volunteers, students at Beihang University, took turns living in the cabin, which measures around 150 square meters.
The BLSS is a critical piece of technology required for long-term human stays on the moon or other extraterrestrial bodies, Liu said.
Researchers will evaluate the physical and mental conditions of volunteers, study test results, and explore smaller BLSS equipment which could be loaded onto space labs, and moon and Mars probes in the future.
"The test has important implications for human endeavors to achieve long-term stays outside Earth. The experience, technology and findings will be conducive for future space exploration efforts," said Wang Jun, an academician from the Chinese Academy of Engineering.
The BLSS can also be applied in areas where water is scarce and oxygen levels are low, he said.
The previous record was set in the Soviet Union, where three people stayed for 180 days in a similar closed ecosystem in the early 1970s.
FULL RECYCLING
The cabin consists of two plant cabins and a comprehensive cabin. The volunteers grow wheat, strawberries and other plants. There is small amount of pre-stored pork and chicken. The main vitamin source for the volunteers are yellow meal worms raised in the cabin. They are roasted, ground and mixed with flour to make buns and pancakes.
"The system worked well. There were a lot of variety of vegetables to eat," said volunteer Gao Han, a student in his third year pursuing a Master's degree in biomedicine.
"If there is any improvement needed, I would want to eat eggs, which were not available in the lab. It would be better if there were more sources of animal fat," he said.
Volunteers drank water from a purifying machine. "Water is limited but sufficient for us to use for washing, cleaning vegetables and drinking every day," he said.
"It was quite a challenge. I miss sunshine so much," he said. Chief designer Liu said keeping the students busy with gardening could be good therapy to cope with isolation.
The volunteers had access to the Internet. They could also play chess, do yoga and ride exercise bikes. They also studied English and listened to the radio. Volunteers had to take pyschological and health checks every week, said Liu Dianlei, another volunteer.
"Isolation kept us focused on our papers and experiments. We also sought fun. I performed little bit of magic to entertain the group," he said.
FUTURE GOALS
Professor Liu said the BLSS system had proven to function well over a long period of time. Researchers have also explored the mechanism in which light affects human's biological rhythms and emotions. They also improved technology for vertical planting.
"This is not the end, but a new starting point to continue to explore space," Liu said.
China has made great progress in space exploration in recent years. A manned docking in space was carried out in 2012, followed by a rover landing on the moon a year later.
China plans to launch the Chang'e-5 lunar probe in 2019, which is expected to bring lunar samples back to the Earth, according to Pei Zhaoyu, deputy director of the Lunar Exploration and Space Program Center of the China National Space Administration.