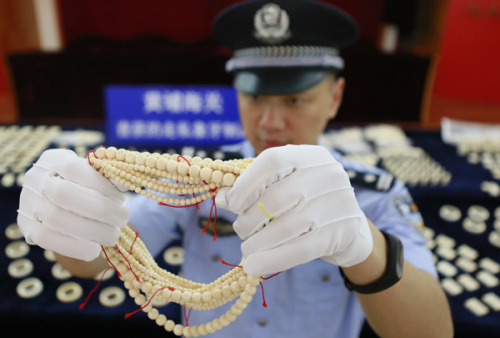 An officer shows smuggled ivory products at Huangpu Customs in Guangzhou, Guangdong Province, on Monday. (Photo by ZHANG HAILONG/FOR CHINA DAILY)
Two suspects have been caught in South China trying to smuggle 740 ivory products weighing nearly 29 kilograms, according to customs officials.
The ivory products were found hidden in express delivery packages that were sent from Dongxing in the Guangxi Zhuang autonomous region to Dongguan, Guangdong province, sources with Guangzhou Huangpu Customs said on Monday.
The express items were later transferred from Dongguan to Baiyun district in Guangzhou, Guangdong, on May 5.
The suspects were caught as they tried to collect the items. Four machines used to process ivory and some necklaces and bracelets made of the contraband material were also seized at the suspects' residences.
Of the seized ivory pieces, 15.72 kg were African ivory and 13.11 kg were mammoth ivory, both of which are strictly banned from trade under the Convention on International Trade in Endangered Species of Wild Fauna and Flora.
According to the authorities, one of the suspects, surnamed Peng, said the ivory was originally smuggled into Dongxing from Vietnam.
The detentions mark the first ivory smuggling case uncovered by Huangpu Customs since the Ministry of Public Securities launched a campaign against the trading of endangered wildlife and products early this year.
China banned the ivory trade at the end of last year as part of its commitment to protecting endangered species.
In a recent related case, a suspect was caught trying to smuggle 18 pieces of African ivory products weighing 1.73 kg into China in early April via Chengdu Shuangliu International Airport in Sichuan province.