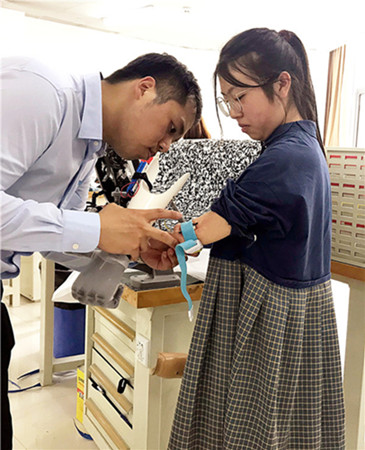 Stand TALL, a charity in Hong Kong, has provided free therapy for Zhou Yuye (right). (DARA WANG/CHINA DAILY)
The devastating earthquake caused a seismic shift in the lives of millions of residents of Sichuan Province. Dara Wang in Hong Kong discovers how the tremors are still reverberating through the life of one young adult.
Zhou Yuye was unable to move. She lay trapped, in the grip of someone who had died, pinned under debris that had fallen from the ceiling and crushed her under its weight, making it difficult to breathe. There was blackness all around.
"I was lying on my stomach, my arms stretched out in front; my left arm was caught tight between something," Zhou said. "Someone's arm hugged my right shoulder. It was deadly tight and made me uncomfortable. I wanted to move it, but I couldn't."
The then-7-year-old student thought her life was about to end. It was May 12, 2008.
At dusk on May 13, 27 hours after the catastrophe, rescue workers discovered Zhou and another student in the embrace of their teacher Zhang Miya, who had died in the aftermath of the quake.
The 29-year-old teacher was one of more than 87,000 people who lost their lives or were reported missing in the magnitude 8 temblor, now known as the Wenchuan earthquake. The school at which he taught, Yingxiu Primary School, Yingxiu town, Sichuan province, was at the epicenter.
Zhou remembers the moments leading up to the disaster. As the clock approached 2:28 p.m., she and her peers were in a math class, memorizing multiplication tables. The children heard a tremendous crash outside the classroom window, and the world began to roll and shudder.
Zhou vaguely remembers her teacher shouting, "It's an earthquake-get under the (teacher's) desk!"
"I saw a huge gray wave rushing at me. I was dumbstruck," Zhou recalled. "I didn't know what was happening. I didn't know what an earthquake was."
She did as commanded and ran toward the teacher's desk. "The ceiling started falling piece by piece," she said.
She has no memory after that. She lay unconscious and was awakened many hours later by the voices of other students crying out for help. She could barely move. It was hard to breathe and there was an excruciating pain in her arm.
She remembers a container of yogurt being pressed into her hand. She took only a little before passing the container to another student. It was the first time she'd had any food since the previous afternoon.
She tried to buoy her spirits and those of her surviving classmates by leading a song Zhang had taught them just a week before. The song may have actually saved the children because the rescue workers heard them singing, and after six to seven hours of hard effort they pulled three of Zhou's classmates to safety.
When her ordeal ended, Zhou felt as though only a few hours had passed. Her first words to her mother, Yu Qin, were, "I want shredded pork with green peppers."
It was her favorite dish. Zhou Lunju, her father, had promised to cook it for her, but then the quake struck and he was unable to keep his promise.