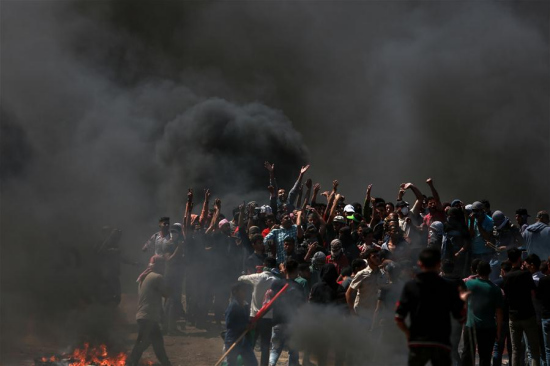 Palestinian protesters clash with Israeli troops near the Gaza-Israel border, east of Gaza City, on May 14, 2018. (Xinhua/Wissam Nassar)
The UN Security Council will hold an emergency meeting to address the violent clashes between Palestinian protestors and Israeli forces along the Gaza Strip's border with Israel, a Palestinian envoy said Monday.
Speaking to reporters at the UN headquarters in New York, Riyad Mansour, Permanent Observer of the State of Palestine to the United Nations, said the meeting will take place "possibly within the next 24 hours."
Mansour said 45 Palestinians were killed, including eight under the age of 16, and more than 2,000 were injured in violent clashes with Israeli forces on Monday when the United States moved its embassy to Jerusalem, which trigged the escalation of conflict at the Gaza border.
The escalation has brought the number of casualties since March 30, when the Palestinians first held the "Great Return March" protests, to almost 100 dead and more than 11,000 injured.
"We condemn in the strongest term this atrocity by the Israeli occupying forces using this massive fire power against civilians who have the right to demonstrate peacefully," said Mansour.
He further demanded international protection for the civilian population and called on the Security Council to condemn "this massacre" and to provide security to the Palestinians.
When asked about forming an independent investigation that he had earlier urged, Mansour said 14 members of the Security Council were receptive to the idea but one member "was obstructing the Council from doing so."
He added the UNHCR in Geneva, the world body's human rights organ, may undertake the task of establishing such an investigation commission.
Mansour said he expects the Palestinian leadership later Monday to decide on whether to refer to the recent events as war crimes, as recommended by the Palestinian National Council.