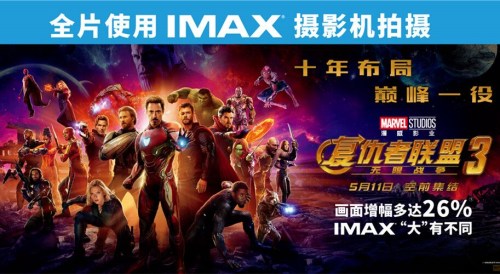 An IMAX Chinese poster of "Avengers: Infinity War." (Photo courtesy of IMAX China)
Marvel Studios' "Avengers: Infinity War" becomes the fastest superhero box office hit in China despite its late release in the world's second largest market.
The new installment took in a staggering haul of 1.27 billion yuan (US$200 million) in three days after its debut in Chinese theaters on Friday, according to Maoyan.com, a ticketing platform also tracking general box office results.
This feat is second only to car-racing action film "The Fate of the Furious," which made 1.35 billion yuan (US$213 million at the current exchange rate, but in 2017, it was US$184 million), which makes "Avengers: Infinity War" earn the spot of the highest grossing weekend release ever in China if counted in U.S. dollar rather than in Chinese renminbi.
It became the third-largest opening film, raking in 386 million yuan (US$60.91 million) on Friday, only behind China's domestic fantasy movie "Monster Hunt 2" which opened this year with 546 million yuan (US$86.18 million) on Lunar New Year's Day and "The Fate of the Furious" which opened with 417 million yuan (US$65.8 million).
It is the second-largest single day grossing film with 491 million yuan (US$77.49 million) on Saturday, only behind "Monster Hunt 2," making it the number one highest grossing imported foreign film ever for a single day in China.
It also set the record as the highest grossing film for midnight advanced preview and the highest presales of all time for the first weekend with earnings over 400 million yuan (US$63.12 million) before the film even opened in China.
"Avengers: Infinity War" is the only blockbuster ever in history to open with more than US$200 million in both the Chinese and American markets.
For IMAX, the film also broke a series of records in China, including the first film to have the highest midnight IMAX preview of more than 10 million yuan (US$1.57 million) and the biggest single day gross for the large screen format with 45 million yuan (US$7.1 million). In IMAX cinemas, the China opening weekend took in US$20.5 million to become the all-time biggest weekend so far for the format. Worldwide, its IMAX version has ballooned to US$118.3 million thus far.
The film, directed by Anthony Russo and Joe Russo, and starring dozens of superhero actors such as Robert Downey Jr., Chris Hemsworth, Mark Ruffalo and Chris Evans, is the fastest grossing superhero blockbuster and will undoubtedly become the highest grossing superhero flick ever in the Chinese market.
The highest-grossing superhero film in China currently is 2015's "Avengers: Age of Ultron," which made 1.46 billion yuan (US$232 million) in the market.
The Chinese audience seemed to be growing fatigued with superhero flicks before the Avengers film, as the Marvel and DC Comics, made only moderate profits in the market. Six such films, including "Spider-Man: Homecoming," "Justice League" and "Wonder Woman," were imported to the country in 2017, each making it in the US$100 million to US$110 million range. Earlier this year, "Black Panther" became a cultural phenomenon in North America, but it received only average reviews in China and grossed 662 million yuan (US$105 million), far from a phenomenal status.
The explosive opening in China helped push "Avengers: Infinity War" across the US$1 billion mark, and the estimated global total now stands at US$1.6 billion.