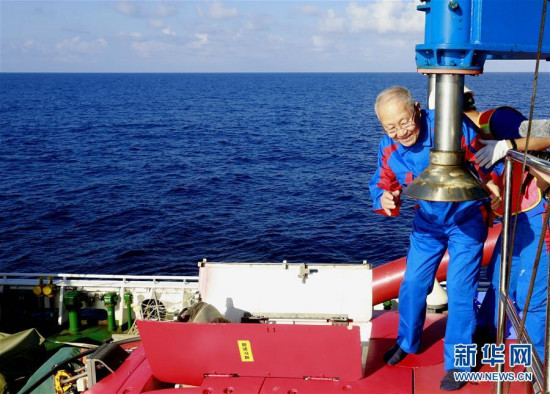 Wang Pinxian, 82, is about to enter the cabin of Shenhai Yongshi, or Deep-Sea Warrior, for a dive in the South China Sea on the exploration ship Tansuo-1 yesterday, becoming the oldest passenger of the manned submersible so far. (Photo/Xinhua)
A Chinese manned submersible has welcomed its oldest passenger on a deep-sea research mission in the South China Sea.
Well-known geologist Wang Pinxian, 82, boarded the submersible Shenhai Yongshi, or Deep Sea Warrior, on Sunday morning with another researcher. The vehicle reached a depth of 1,410 meters and Wang conducted more than eight hours of underwater research.
"We found a cold seep biogroup mainly consisting of feather duster worms and sea mussels," said Wang, an academician at the Chinese Academy of Sciences. "We also discovered a special biogroup of cold water coral and sponges, which is worthy of further research."
A cold seep is an area of the ocean floor where hydrogen sulfide, methane, and other hydrocarbon-rich fluid seepage occurs.
Wang said he has conducted research in the South China Sea four times over the last 20 years, but this was the first time that he had used a domestically-produced submersible.
"The journey reminded me of Alice's Adventures in Wonderland, and I just came back from the fairyland," Wang said when he walked out of the submersible. "I am so proud of the development of our country's marine technology."
China launched a research mission on the history of the South China Sea in 2011. More than 700 researchers have taken part in the program over the past few years.
Shenhai Yongshi underwent testing last year, and this was its 67th dive since it was put into service earlier this year.