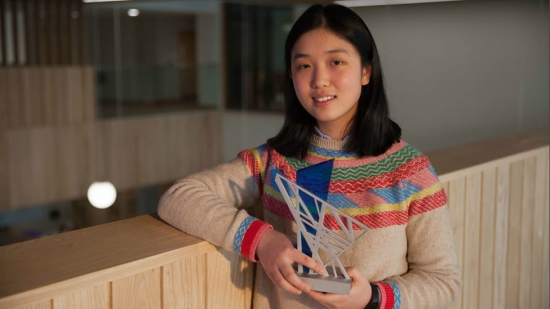 American-born Chinese pianist Lauren Zhang wins Britain's young musician contest. /Photo via BBC Music
American-born Chinese pianist Lauren Zhang was named as winner of the 40th BBC Young Musician competition on Sunday.
Zhang, aged 16, was the youngest of three finalists in the battle for the prestigious title at Birmingham's Symphony Hall.
She chose to perform Sergei Prokofiev's Piano Concerto Number 2 as soloists with the City of Birmingham Symphony Orchestra conducted by Mark Wiggleswort.
Zhang said she chose the Prokofiev piece because "it balances lyrical, elegant melodies with moments that are more grotesque or bizarre."
For the teenage classical musician the final took place on her home patch. She is a student at the Junior Conservatoire, part of the Royal Birmingham Conservatoire.
Born in Albuquerque, New Mexico, Zhang applied for the Junior Conservatoire in 2010.
Zhang is taught by Dr. Robert Markham at the Junior Conservatoire, who himself was a finalist in the BBC Young Musician of the Year Competition in 1986, where he was awarded the Piano Prize. Zhang also studies violin at the Junior Conservatoire
Ahead of her performance tonight, Zhang said she had never imagined playing in such a big final in a major concert hall with a famous symphony orchestra.
Timothy English, head of Junior Conservatoire, said: "Lauren has been a student at the Junior Conservatoire for the past eight years and it has been a great privilege to watch her develop into an extraordinary young pianist. She is a musician of exceptional talent and commitment, and this latest success is richly deserved."
Zhang was joined in the final by saxophonist Robert Burton and cellist Maxim Calver.