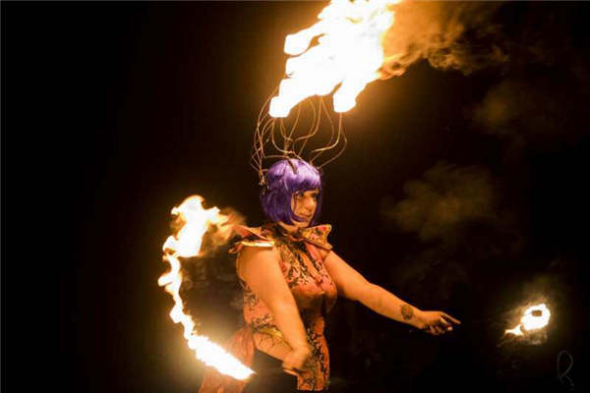 The recent Dragon Burn, a satellite Burning Man event in Anji county, Zhejiang province, draws participants to set up themed camps and arrange activities that promote community spirit. (Photo provided to China Daily/Tu Tu, Xiaofang Suskita)
A recent satellite event in Zhejiang of the world-famous Burning Man festival inspires Camilla Tenn to consider attending its U.S. incarnation.
This past May Day holiday, I found myself hurtling through the undergrowth in bamboo-blanketed Anji county, Zhejiang province, triple-checking my seat belt as our bus sped along increasingly narrower dirt roads.
A group of Beijing-based friends and I were making our way to a satellite Burning Man event called Dragon Burn, deep in the heart of the forest. In the distance we could see the shimmer of the sunset reflecting off a vast reservoir, and knew we were close.
Colleagues had warned me that poisonous snakes inhabit the wilderness there, and someone in the dedicated WeChat group had created a panic about leeches. I was not feeling too confident in the strength of my mosquito repellant to protect me from such foes.
Once we had arrived, however, I felt in safe hands. The local police were on hand to register us foreigners-meaning no need to rush off to the local station once we'd set up our tents-and veteran "burners" were handing out maps directing us further into the wilderness.