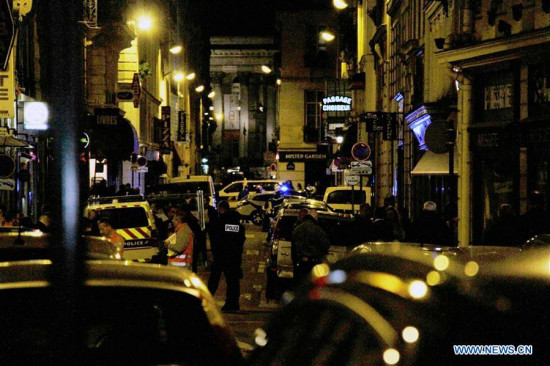 Police officers cordon off the site where a knife attack happened in Paris, France, May 12, 2018. (Xinhua/Han Bing)
The Paris knife attacker who has been shot dead by police on Saturday was a French citizen born in Chechnya and was on a list of potential terrorism suspects, local media reported Sunday.
The attacker had shouted Islamic slogans when attacking passers-by with a knife in the downtown Opera district, a popular tourist area that becomes especially crowded on weekends.
Citing judicial sources, the BFM TV news channel said that the knifeman was born in 1997 in Chechnya, had no criminal record, but was on the police watchlist for links with a person in Syria.
A judicial source that appeared in various reports identified the attacker as Khamzat A, without giving his full name, but BFM TV and other French media said that the A stood for Azimov.
The knife attacker killed one person and wounded four others, and was shot dead by police at the crime site.
"France pays once again the price of blood but does not give an inch to the enemies of freedom," French President Emmanuel Macron tweeted Saturday night, praising police officers for "neutralizing the terrorist."
The attacker's parents and a friend were arrested by the police for questioning after the incident.
The friend, who was arrested in the French city of Strasbourg, is reportedly of the same age as the attacker.
The killer had shouted "Allahu Akbar" ("Allah is the greatest") when attacking passers-by with a knife. Only within hours of the attack, the terrorist group Islamic State claimed responsibility via its propaganda agency.
France has become a major target of terrorist attacks in recent years. Several attacks claimed by the Islamic State have rattled nerves in France and beyond, with the bloodiest one in Paris in November 2015 leaving 130 victims.