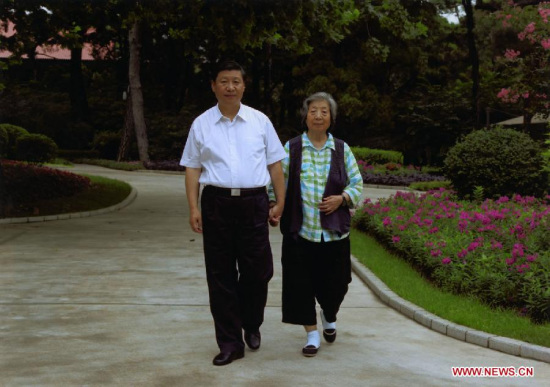 An undated photo of President Xi Jinping walking with his mother. The photo is on Xi's bookshelves in his office. [Photo/Xinhua]
When President Xi Jinping delivered his first New Year address in 2013, photos placed on his bookshelves caught online community's attention, especially the image of him walking hand in hand with his mother.
Let's try to figure out best ways to express gratitude and love to mothers through Xi's stories and words.
Don't miss any chance to express your love
President Xi is a filial son. He chats with his mother Qi Xin and takes a walk with her whenever he has time.
He has stressed the importance of family bonds and family love on many occasions. While addressing the annual Spring Festival greetings on Jan 26, 2017, Xi called on the nation to love families and friends. Love should reach every family and bring warmth to all Chinese like a spring breeze blowing across the nation, he said.
Inspired by Xi's photo with his mother, many Chinese netizens during this year's Spring Festival posted pictures holding hands of their mothers.
Pass down family tradition
While meeting with representatives to the first National Conference of Model Families in December 2016, Xi told a story about family education. The conference was the first of its kind to honor model families selected nationwide. A total of 300 model families were honored.
"When I was a child, my mother gave me a picture-story book series-The Legend of Yue Fei. One of its more than 10 volumes shows Yue Fei's mother tattooing four characters saying 'serve the country with the utmost loyalty' across his back," Xi said, adding that the story deeply impressed him.
Xi told parents to pass down sound moral values to their children from an early age, help them cultivate sound minds and ensure their healthy growth so that they will be useful to the country when they grow up.
People usually begin their way to read the world through their mother's voice. In retrospect, passing down family tradition and sticking to the sound values taught by mother is a best way to repay her care.
A bag embroidered with "mom's heart" in Chinese by Xi's mother Qi Xin. [Photo from the book Xi Jinping's Seven Years as an "Educated Youth"]
Never fail mother's expectation
What makes Xi stand out may lie in his experience of living and working as an "educated youth" -- urban youth sent to remote rural areas to "learn from farmers" during "cultural revolution" (1966-76). He stayed in Liangjiahe, a small village in Northwest China's Shaanxi province, from 1969 to 1975, according to Xinhua.
During those days, one thing that accompanied Xi in place of his mother was a bag embroidered with "mom's heart" in Chinese made by her.
"At that time, I did all kinds of work -- reclaiming wasteland, farming, hoeing, herding, hauling coal, mounding, and carrying manure," Xi said. "I came to understand what reality, seeking truth and the masses meant. These gave me an enduring inspiration in my life."
Love: Start from the small things
"Family is the basic cell of society and the first school of our life," Xi said. No matter how times have changed, the family value, family education and family building must be stressed so that the millions of families become important points for national development, ethnical progress and social harmony, he added.
Mother's Day is a day to review such insightful words and to do something for mothers in this spirit. And, the easiest way to begin is from the small things.