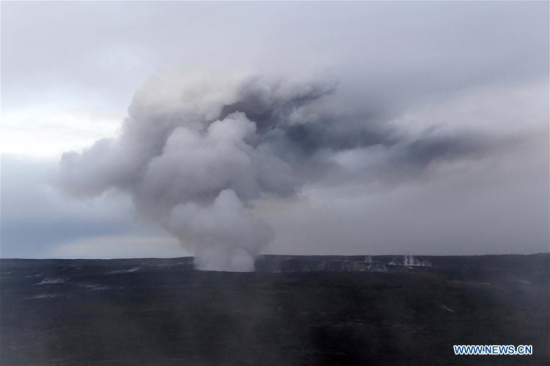 Ash emission is seen erupting from Halemaumau of Kilauea volcano on the Hawaii Island, the United States, on May 10, 2018. (Xinhua/Tao Xiyi)
Hawaii's governor David Ige has signed a Presidential Disaster Declaration request to ask U.S. President Donald Trump to declare the state of disaster due to volcanic eruption on the Big Island and ongoing earthquakes.
Kilauea, one of the world's most active volcanoes, has been spitting lava for a week, destroying dozens of homes. The governor also requested direct federal help, warning of a potential for mass evacuations as more fissures open.
Hawaii County authorities advised residents on the Big Island through a text message to monitor their sensitivity to increased levels of SO2, a toxic gas.
Authorities also ordered workers to remove flammable pentane from a geothermal plant that is near communities that saw lava oozed from cracks in the ground.
Experts feared that Kilauea could send ash and boulders from the its summit crater, which has not been seen for nearly a century. Additional outbreaks in the general area are also expected.