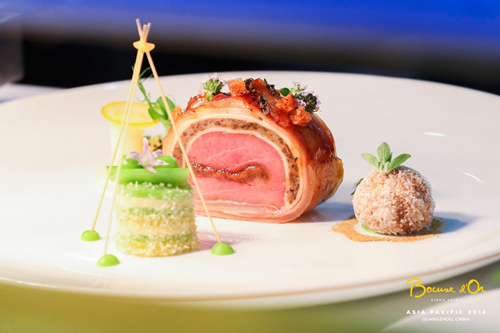 Australian veal tenderloin ready for judge sampling and evaluation. /CGTN Photo
Every food connoisseur from Guy Fieri to Emeril Lagasse has heard Bocuse D'or described as "the most prestigious culinary competition in the world."
Those behind the biennial event travel the globe in search of its very best chefs.
And the 11 countries partaking in the Asia-Pacific round of the competition gathered together in Guangzhou, as the southern Chinese city hosted the event for the first time.
"Being in Guangzhou is fantastic," says Stefan Stiller, president of Bocuse D'Or Asia Pacific. "Having this event in China is extremely fantastic."
Fantastic in part because of a milestone anniversary between Guangzhou and Lyon, France, the birthplace of Bocuse D'Or.
"Lyon is the food capital of France, and Guangzhou is the food capital of South China," Stiller says about the two cities celebrating 30 years as 'partner cities.' "We have a lot of synergy, similarities, and so there are a lot of reasons why we are here."