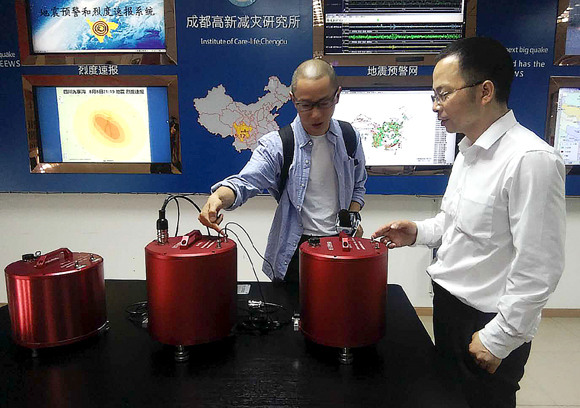 Wang Tun (right), head of the Chengdu-based Institute of Care-Life, demonstrates a seismic monitoring station. (Photo: China Daily/Huang Zhiling)
Sensors being installed in Sichuan and Yunnan - China's most active areas
China has begun building a monitoring network in seismically active regions in Sichuan province and neighboring Yunnan province, according to the Institute of Care-Life, a key earthquake early-warning laboratory.
About 2,000 monitoring stations will be built in the two provinces in the next year or two to form an underground cloud map monitoring network.
Over the next three years, the institute - based in Chengdu, Sichuan - will study data collected from around 10 destructive earthquakes to improve prediction, according to Wang Tun, the head of the institute.
Both Sichuan and Yunnan have a high incidence of quakes. Each has an annual average of more than three quakes above magnitude-5.0.
The sensors at the 2,000 monitoring stations will be installed at ground level and will collect data on underground stresses 8 to 20 kilometers below the surface, providing researchers at the institute with potential insights into earthquake forecasting, Wang said.
According to Chen Tianchang, a research fellow at the Sichuan Earthquake Bureau, quakes are closely related to underground stresses and energy.
The objective of the ambitious project is to successfully predict earthquakes that are about to happen at depths between 8 km and 20 km, where almost all the most destructive quakes have originated, he said. However, the current technology is only able to estimate a likely time period and area for a quake, it cannot pinpoint them.
The epicenters of the magnitude-6.8 and 7.2 Xingtai earthquakes in Hebei province in 1966; the magnitude-7.3 Haicheng earthquake in Liaoning province in 1975; the magnitude-7.8 Tangshan earthquake in Hebei province in 1976; the magnitude-8.0 Wenchuan earthquake in Sichuan in 2008; and the magnitude-7.0 Jiuzhaigou earthquake in Sichuan last year were all less than 20 km deep, Wang said.
Earthquakes whose epicenters are less than 8 km deep are generally minor - below magnitude-5.0 - as earthquakes with shallow epicenters cannot accumulate enormous underground stress or energy, he said.
The first monitoring station of the planned underground cloud map network was installed last week at the Yingxiu Earthquake Station in Sichuan's Wenchuan county.
Yingxiu was the epicenter of the Wenchuan earthquake on May 12, 2008, which killed 69,226 people and left 17,923 unaccounted for.