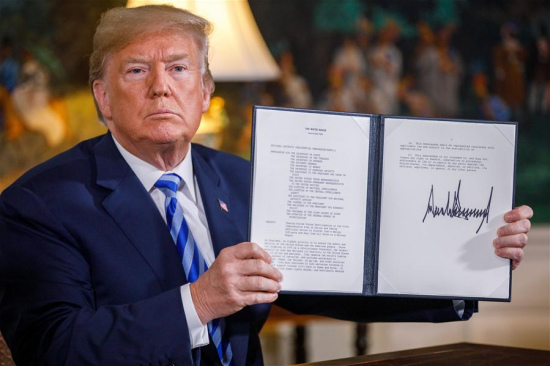 U.S. President Donald Trump displays a signed presidential memorandum at the White House in Washington D.C., the United States, on May 8, 2018. U.S. President Donald Trump said here on Tuesday that the United States will withdraw from the Iran nuclear deal, a landmark agreement signed in 2015. (Xinhua/Ting Shen)
U.S. President Donald Trump said on Tuesday that he will withdraw his country from the Iran nuclear deal, a decision that immediately drew global frustration and outcry.
The pullout of the United States from the deal, which eased sanctions on Iran in exchange for the country limiting its nuclear program, risks sparking an arms race in the Middle East, experts said.
In a televised speech from the White House, Trump announced the exit. He said that he will not sign the waiver of nuke-related sanctions against Iran, but re-impose sanctions lifted under the accord against Tehran and nations it has business links with.
Trump repeated his rhetoric against Iran and the deal, or the Joint Comprehensive Plan of Action (JCPOA), saying it had failed to prevent Iran from developing nuclear weapons or supporting terrorism in the region.
The JCPOA "allowed Iran to continue enriching uranium" and "lifted crippling economic sanctions" on Iran in exchange for "very weak limits" on its nuclear activity, "and no limits at all" on its efforts to expand regional influences, he said.
"The deal's sunset provisions are totally unacceptable," He said. "If I allowed this deal to stand, there would soon be a nuclear arms race in the Middle East. Everyone would want their weapons ready by the time Iran had theirs."
The United States will impose "the highest level" of economic sanctions on Tehran, he said. "Any nation that helps Iran in its quest for nuclear weapons could also be strongly sanctioned by the United States."
As for the possible exacerbation of trans-Atlantic division over his decision, Trump only said that "we are unified in our understanding of the threat, and in our conviction that Iran must never acquire a nuclear weapon."
Trump's decision came on the heels of visits to the United States by French President Emmanuel Macron, German Chancellor Angela Merkel and British Foreign Secretary Boris Johnson. Macron even proposed a last-ditch side plan to appease Trump, but had failed to convince him.
UNILATERAL SANCTIONS TO COME
The White House said later that Trump had "directed his administration to immediately begin the process of re-imposing sanctions related to the JCPOA," and "the re-imposed sanctions will target critical sectors of Iran's economy, such as its energy, petrochemical, and financial sectors."
"Those doing business in Iran will be provided a period of time to allow them to wind down operations in or business involving Iran," it added. "Those who fail to wind down such activities with Iran by the end of the period will risk severe consequences."
U.S. Secretary of Treasury Steven Mnuchin noted in an announcement that "sanctions will be reimposed subject to certain 90 day and 180 day wind-down periods."
"At the conclusion of the wind-down periods, the applicable sanctions will come back into full effect. This includes actions under both our primary and secondary sanctions authorities," he added.
Meanwhile, Secretary of State Mike Pompeo said that the United States "will be working with our allies to find a real, comprehensive, and lasting solution to the Iranian threat."
GLOBAL OUTCRY
Trump's decision to abandon the Iran deal signed between Iran and the six world powers of Britain, China, France, Germany, Russia and the United States has sparked domestic and global concerns.
In a joint statement released by Macron's office, French, German and British leaders regretted the U.S. decision.
Macron, Merkel and Theresa May reiterated their "continued commitment" to the Iran nuclear deal, stressing that it "is of particular importance to our shared security."
Trump's predecessor Barack Obama, under whose administration the deal was signed, said in a Facebook post that Trump's announcement is "so misguided" and "a serious mistake."
"The JCPOA is working," Obama said, adding that "the United States could eventually be left with a losing choice between a nuclear-armed Iran or another war in the Middle East" without the landmark deal.
Europe will abide by the JCPOA, EU foreign policy chief Federica Mogherini said, adding she was "particularly worried" about the possible repercussions of Trump's decision.
For his part, Iranian President Hassan Rouhani said that his country will remain in the deal, adding he has asked the Iranian foreign minister to initiate negotiations with the European partners as well as China and Russia over the fate of the deal.
Chinese Foreign Ministry spokesperson Hua Chunying said on April 27 that China expects the deal to remain intact and be treated seriously.
"China calls for all related parties to strengthen dialogue and coordination" over the deal, she said.
Experts from the Washington-based Arms Control Association also denounced the decision. Daryl G. Kimball, the group's executive director, said Trump's announcement "is an irresponsible act of foreign policy malpractice" and "a twofold abrogation of U.S. commitments."
"Through his reckless actions, Trump is precipitating a proliferation crisis rather than working with our allies to develop a long-term diplomatic strategy to build on the agreement in the years ahead," Kimball said.
Brookings Institution senior fellow Darrell West told Xinhua that "the risk is his decision will spark an arms race in the Middle East."
"Iran may restart its nuclear program and that could propel Saudi Arabia to develop its own nuclear program. The region is likely to become more volatile and chaotic as a result of the deal nullification," he said.
(Matthew Rusling from Washington also contributed to the story.)