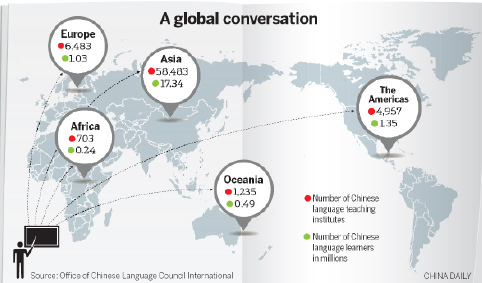 (Photo for China Daily)
Airmule is a technology platform in LA that allows travelers to earn money during international flights by working as onboard couriers.
"WeChat and Sina Weibo-often known as China's version of Twitter-are great channels," Xie said.
"They can help our company to target a specifically Chinese audience.
"However, to maximize the power of these marketing channels, it's important to know the Chinese market.
"For example, if your company is targeting the younger generation, you need to know what Chinese millennials are interested in, and understand the newest trends in China."
Reflecting on her experiences learning Chinese, Olson spoke of the "wonderful surprises" her Chinese understanding has brought to her life and career.
"The truly awe-inspiring thing is realizing that knowing Chinese opens up communication with over 1.3 billion people who I would not have been able to communicate with before. That is truly amazing to think about," she said.
To better meet demand for Chinese learning overseas, Confucius institutes have been established worldwide since 2004.
The institutes, which are affiliated with the Ministry of Education, are nonprofit public educational organizations that aim to promote Chinese language and culture, support local Chinese teaching internationally, and facilitate cultural exchanges.
As of September, 516 Confucius institutes had been established in 142 countries and regions across the world, helping more than 7 million people learn Chinese, according to the Confucius Institute Headquarters, which is in Beijing.
Meanwhile, enthusiasm for learning Chinese has been rising continuously among students overseas, largely as a result of China's dramatic economic development and increasingly frequent exchanges with the country.
To date, at least 67 countries have made Chinese teaching mandatory in their national educational systems and more than 170 countries have established Chinese classes, according to statistics from the Confucius Institute Headquarters.
In addition to the government-backed efforts to promote the language overseas, savvy Chinese entrepreneurs have begun to tap into the international market, riding on the rising popularity of the ancient language.
In August, VIPKID, an online educational startup from China, launched its new business, teaching Mandarin in a one-on-one setting to children overseas.
Unlike regular offline courses, Lingo Bus, the company's new initiative, resembles an online version of a Confucius Institute, providing personalized Chinese lessons for children age 5 to 12, with each lesson lasting about 25 minutes.
The teachers are carefully selected, and must hold at least a bachelor's degree in teaching Chinese as a second language, a Mandarin proficiency certificate, and a minimum of a year's teaching experience.
In addition to traditional teaching elements, the class combines interactive videos and songs, which help the students become more involved in the learning environment. They gradually learn to sing a song effortlessly, without even realizing it, and increase their Chinese vocabulary with every day that passes.
Lingo Bus says it has more than 4,000 registered members from more than 46 countries and regions, including the US, Canada, Germany, Japan and Malaysia. Nearly 6,000 Chinese teachers have applied to join the company's faculty.
Mi Wenjuan, VIPKID's founder and CEO, said expanding the overseas business will be a top priority this year.
"We aim to reach 50,000 paid users and employ more than 10,000 skilled Chinese teachers in three years," she said.