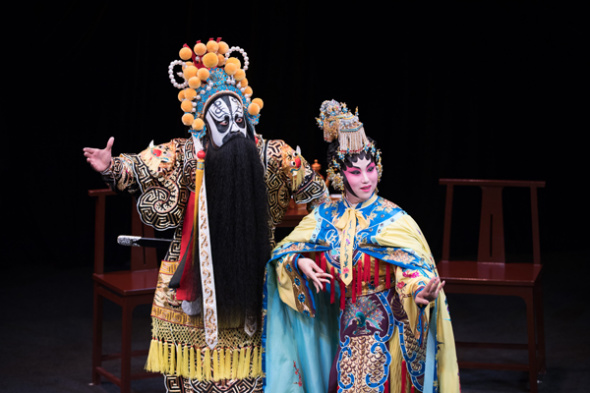 Keith Lai (left) plays Xiang Yu and Janet Wong plays Yu Ji in Cantonese Opera Farewell My Concubine, the first commissioned production of Xiqu Center, part of the West Kowloon Cultural District in Hong Kong. (Photo provided to China Daily)
A world-class venue dedicated to promoting the rich heritage of Chinese opera is nearing completion in Hong Kong.
Each time Louis Yu passes the construction site of the West Kowloon Cultural District, one of the world's largest cultural developments currently being built, he is thrilled.
As the performing arts executive director of WKCD, he has been involved in the project for the past eight years.
By the end of the year, the Xiqu Center-a new flagship destination for traditional Chinese theater-is expected to be launched as part of the WKCD, which is located on Hong Kong's Victoria Harbour.
"When most of us think of Hong Kong, we think of a metropolis of gleaming skyscrapers, bustling crowds and an open society embracing different cultures. But I always feel proud of the city's traditional art form, Cantonese Opera," Yu says in Beijing recently. "Cantonese Opera has a large fan base in Hong Kong, mostly popular among elderly people. Amateurs usually gather together to perform the opera as entertainment. With the opening of Xiqu Center, we want to attract not just fans of Cantonese Opera but also people who are not familiar with the art form, especially young people."