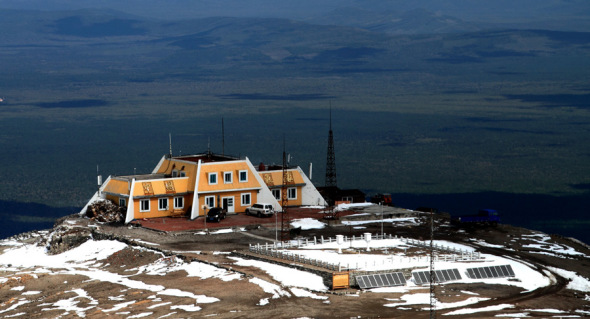 A meteorological observatory is perched high above Jilin province along the DPRK border. (Liu Zhaoming / For China Daily)
Group of seven serve as eyes and ears for front-line meteorologists
While much of China basks in the sunshine and warmth of spring, Jiao Xiangzhao, a weather observer in Jilin province, still faces wintry conditions.
Jiao heads a team of seven working at a meteorological observatory perched atop the main peak of Changbai Mountain, on the border with the Democratic People's Republic of Korea.
His shifts usually last from 15 to 30 days, and for his next one he has brought food, barrels of water, gasoline and extra-warm clothes.
Jiao has every reason to prepare thoroughly. With an altitude of 2,623 meters, the 60-year-old observatory is subject to some of the most brutal weather in China.
For more than 280 days a year, the observatory is battered by gale-force winds that can sometimes reach 140 kilometers per hour. The temperature is below freezing for most of the year, and can be as low as-40 C in winter.
"Weather equipment manufacturers love us because we can help them test their products in extreme weather conditions," said Pan Changhong, deputy director of the Changbai Mountain Meteorological Administration.
Two or three observers live in the observatory for each shift, collecting and uploading data such as temperature, atmospheric pressure, wind speed and direction, humidity and visibility.
Many of the tasks can be done by machines. But when the instruments fail due to bad weather, as they occasionally do, observers have to fix them or work longer hours to finish the job on their own.
"We have a lot of thunderstorms up here, which threaten both people and the equipment," Jiao said.
Weather observation involves a lot of outdoor work. But for observers working at Changbai Mountain, every trip outside is an adventure.
"With the fierce wind, disorienting fog and heavy snow, one can easily lose one's bearings," said Cheng Kun, who worked at the observatory two years ago before taking on a managerial role in the administration.
"Before we worked outdoors, we tied one end of a rope around our waist with the other end fixed to the house. This way, we could find our way back and have something to grasp when the wind forced us to our hands and knees."
Indoor life is not much easier. For most of the year, frozen water pipes make showers out of the question and face-washing optional.
Apart from the adverse weather, the observers also have to live with monotony and loneliness.
"At the beginning you chat with your colleagues, but soon you just run out of things to talk about," Cheng said.
Wang Guoxiang, a veteran weather observer who retired two years ago, said: "We used to read newspapers plastered on the walls to kill time, and over time we could practically recite the stories in them."
Despite the brutality of the working conditions, weather observers on the mountain have maintained high morale. "The work can be tedious, but we are like cogs in a big machine," said Deng Yuanbo, 26, who has been working at the observatory since 2015. "If we do our work well, the data put together can be of great value to climate research.
"Just think about the sacrifice our predecessors have made. The hardships we have now are nothing."
The adverse weather has taken its toll. Former observatory head Liu Jide, who has been working on the mountain since 1980, is troubled by snow blindness, high blood pressure, heart disease, rheumatism, and impaired vision and hearing.
While most of the weather observers have occupational diseases, some have sacrificed more than others.
In 1981, Sui Jintang, then head of the observatory, fell into the valley while trying to retrieve weather data records that had been blown away by the wind. His pelvis was shattered and he died at the age of 41.
Sui's tombstone is near the observatory. Every year, new Party members in the administration pay tribute to the fallen hero and take an oath of allegiance in front of his tombstone.
"Heads of the observatory have all been Party members. We didn't make it a criterion, but Party members just stand out," said Yang Huanyu, director of the administration.
A branch of the Communist Party of China has been set up at the observatory, and it has started cooperating with its counterpart at the company that runs tourism operations at the Changbai Mountain scenic spot.
In the event of emergencies, such as tourists being stranded, Party members at the observatory will take the lead to organize the evacuation of tourists or offer beds for them to stay overnight.
Two years ago, Liu was named a model Party member by the CPC's Jilin Committee.
"I don't think I have done enough, but my identity as a Party member has encouraged me to set an example," said Liu, 59, who is due to retire next year. "I hope the young people working at the observatory can carry on our spirit."