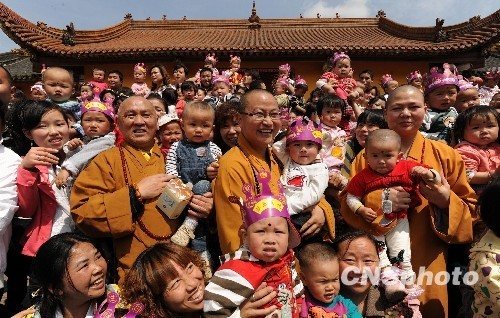 The 108 children celebrate their third birthday together with the Buddhist monks at Luohan Temple on Thursday, May 12, 2011. (File photo/China News Service)
Children born at a Buddhist temple that became a temporary hospital in the aftermath of the 2008 Wenchuan earthquake will celebrate their 10th birthday by participating in a film about their birth, reports West China Metropolis Daily.
Shooting recently started for the film "One Hundred and Eight", in which the 108 children will play their own characters.
The story started on May 12, 2008, when an 8.0-magnitude earthquake hit Wenchuan County in Sichuan Province. The quake caused significant damage to buildings in Shifang, a city 40 kilometer away from the epicenter.
One of the damaged buildings was the Shifang Maternity and Child Healthcare Hospital, which had to be evacuated. The medical staff and expectant mothers sought shelter at the ancient Luohan Temple located near the hospital. From the date of the disaster through to August 7, a total of 108 babies were born at the temple, including 88 born on beds ordinarily used by the monks to meditate. The children were nicknamed by the public "the Luohan Kids".
To show their appreciation to the abbot of the temple, the children and their families usually celebrate their birthday together at the temple.