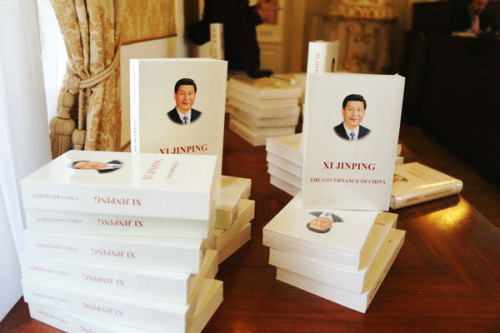 Books of Xi Jinping: Governance of China. (File photo)
Xi Jinping Thought on Socialism with Chinese Characteristics for a New Era is the Marxism of modern China and a new development of Marxism in the 21st century, a senior Chinese official said on Sunday.
Wang Huning, a member of the Standing Committee of the Political Bureau of the Communist Party of China Central Committee, made the remark at a symposium commemorating the 200th birthday of German philosopher Karl Marx in Beijing.
Wang said Xi Jinping Thought on Socialism with Chinese Characteristics for a New Era is the latest theoretical outcome of the Party in upholding and developing Marxism in the new era with innovative and strategic perspectives.
The three-day symposium concluded on Sunday and more than 230 experts and researchers in social science attended this event.
Wang called on the experts and researchers in social sciences and theories to study the spirit of the speeches by Xi Jinping, general secretary of the CPC Central Committee, at a gathering marking the 200th birthday of Karl Marx on Friday, and to strive to make new progress in Marxism research to provide theoretical support for seeking the decisive victory of socialism with Chinese characteristics for a new era.
In his speech on Friday, Xi commended Marx as the "teacher of revolution for the proletariat and working people all over the world,... the greatest thinker of modern times," and Marxism as an open, scientific theory that can respond to the challenges of human society.
Xi said "Marxism has not only profoundly changed the world, but also China" over the 170 years since the publication of The Communist Manifesto.
Overseas scholars also applauded China's creative practice of Marxism by adapting the theory to its changing reality, which ensures its vigor and vitality, saying Xi Jinping Thought on Socialism With Chinese Characteristics for a New Era, which embodies Marxism in contemporary China, would push the development of Marxism.
Do Tien Sam, former head of the Institute for Chinese Studies at the Vietnam Academy of Social Sciences, said the adaptive application of Marxism has made history in China and "would help China develop further and realize its dream of national rejuvenation."
"The Chinese version of practicing Marxism involves Marxist principles as well as new theoretical thought such as building a community with a shared future for mankind, reflecting China's own wisdom," said Vladimir Avtonomov, a professor at National Research University's Higher School of Economics in Moscow.
China has developed and enriched Marxism, he said, attributing the achievements in China's socialist construction to its Chinese characteristics.