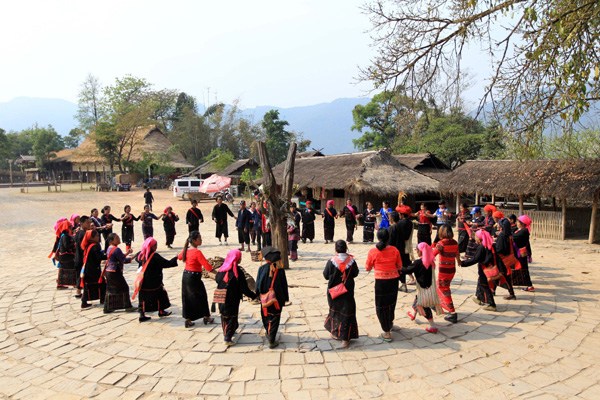 Tourists and the locals dance in a circle at Wengding village in Southwest China's Yunnan province, on March 22, 2018. (Photo/Xinhua)
Restaurant owner Xiao Meiying has been dishing up dinners to tourists for about 16 years. She lives in Wengding village in Southwest China's Yunnan province, a village consisting of people from the same small ethnic group, the Wa, who lived in isolation for centuries.
"I had never seen any people from outside of my village and I didn't even know how to speak Putonghua (or standard Chinese) at that time," Xiao recalled.
Wengding is in the Awa Mountains near the China-Myanmar border. In a remote mountainous area, Wengding was long disconnected from the outside world. But now tourism has transformed village fortunes. During the May Day holiday, thousands of tourists from home and abroad visited the village, bringing great profits for locals like Xiao.
The village made over 9 million yuan ($1.4 million) last year, more than 97 percent of which came from tourism.
The village used slash-and-burn cultivation before 1949 and transformed itself into a contemporary society after the founding of the New China.
"We barely had any money," Xiao said. "The vegetables and tea we grew and poultry we raised could not be sold due to poor transportation."
In 2002, annual income per capita of the more than 1,200 residents in the village was less than 1,000 yuan.
"Vegetables and soup were all my family had every day. Oil was unaffordable at that time," Xiao said. "We had no electric appliances and wooded chairs were the only furniture in my house."
Local officials started promoting tourism in 2002.
"We must encourage tourism. Wengding can't be a living fossil in a museum, away from development," said Li Hua, director of Wengding.
In the Wa language, "Wengding" means a place where clouds are floating. Mist often cloaks the mountains and cottages throughout the year.
With all but one of the villagers being Wa, Wengding has preserved Wa thatched cottages and folk customs such as hanging the ox skulls around the village. The ox is the totem of Wa people. They also play wooden drums, said to be the way the Wa people communicate with their deities.
Xiao was among the first in Wengding to open a restaurant and guest house, which have brought her more than 100,000 yuan a year. Her seven-room inn can bring in up to 800 yuan a night in peak season.
"I feed about 200 tourists from around the world every day in peak season or when film crews come to the village," Xiao said. "Foreign tourists like hiking in the mountains and chicken fried rice is their favorite dish."
Wengding is now home to nine restaurants and hotels, serving more than 220,000 tourists last year, according to Xiao Wenjun, a village official.
"Since the Washan airport in Cangyuan county opened in 2016, tour groups have increased and other tourists can be seen almost every day," said Fang Long, of a local travel agency.
Wengding is actively embracing modern technology, with electric appliances, mobile phones and WiFi necessities in almost every household and Alipay available in some shops.
"All development will be based on the original form of the village to make sure it is well preserved," said Li Xuewen, an official with the village. "Through tourism, we want more people to know about our culture, about the Wa people."