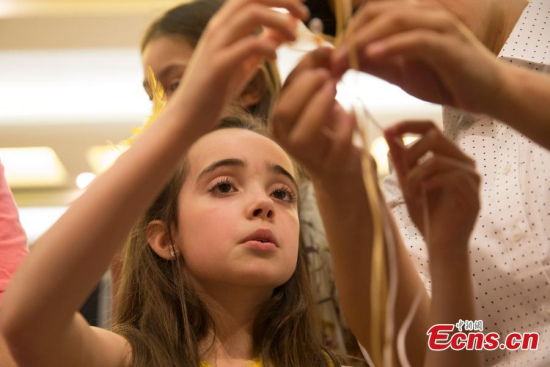 American students participate in a Chinese culture and cuisine event at China's Consulate General in New York City, U.S., May 3, 2018. (Photo: China News Service/Liao Pan)
Hundreds of U.S. students had a taste of Chinese culture by learning the art of paper cutting and knot-making at an open day event held on Thursday.
Over 400 students from 18 elementary and high schools in New York, Long Island and New Jersey participated in the "Feel China" activities hosted by the Consulate General of the People's Republic of China in New York.
The event aims to enhance knowledge about China and Chinese culture through a number of activities.
Chinese Consul General in New York Zhang Qiyue said, "I believe that such activities allow our participants to learn Chinese culture and learn the Chinese language from a young age."
"What is even more important is that we want to plant a seed of China-U.S. friendship into their hearts. Let them know that ... a solid China-U.S. friendship is what everyone wants," he added.
The Consulate General of the People's Republic of China has been hosting the event yearly since 2016.