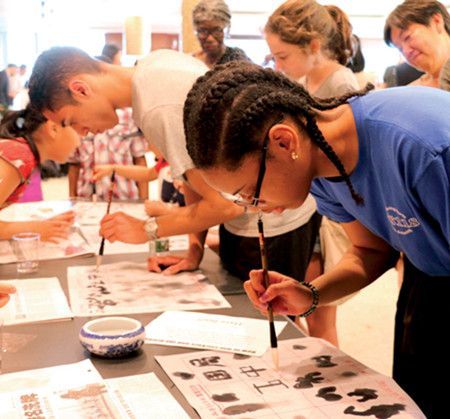 Sheridan Cole, a 13-year-old student from MS 118 in the Bronx, New York, writes Chinese calligraphy at China Open Day. (Photo/CHINA DAILY)
Students and teachers from the New York area intrigued by the Chinese language and culture got a treat on Thursday evening.
More than 400 students, teachers and parents participated in various cultural immersion games, including traditional Chinese calligraphy, paper-cutting, making Chinese knots and playing traditional Chinese musical instruments at the "Experience China Open Day" event held by the Chinese Consulate General in New York.
"We hope through this event, we can motivate students' interests in learning Chinese language and Chinese culture," said Zhang Qiyue, the consul general of China in New York. "And by learning our language and culture, we hope they can get a better understanding of China."
"I just did Chinese knot-making and calligraphy; I really enjoyed the calligraphy and want to try it again," said Mia Nangano, a 16-year-old from Old Bridge High School in Central New Jersey.
"I got interested in Chinese culture when I went to China in my freshman year," Mia said. "My mom used to work overseas a lot, and she told me so many people speak Chinese, (that if you learn Chinese), you can communicate with so many new friends."
"The Chinese language is very unique compared to other languages we have in school," said Emelia Abbeyquaye, also from Old Bridge High School. "By learning Chinese, I think I'm getting more open-minded to different cultures."
"I learned how to use brushes to write calligraphy on special paper; I enjoyed it very much," said Sheridan Cole, a 13-year-old student at MS 118 in the Bronx, New York. "I'm currently learning Mandarin at school, so I find Chinese culture very interesting. And I always want to further learn more knowledge on the culture side, so I think this is a great event for me to get some real experience."
A group of students from Harbor Country Day School in St. James, Long Island, New York, performed two Chinese children's songs, Let's Row the Boat Together and Little White Ship.
Alice and Emily Snyder, two pupils from Edna Louise Spear Elementary School in Port Jefferson, Long Island, performed the Chinese traditional fan dance Liang Liang.
"This is the third year that we held the Open Day event," Consul General Zhang said. "Most importantly, we are sowing the seeds of friendship for China-US relations in these young children's minds. I hope this will further promote people-to-people exchange and China-US relations in the future."
The consul general said she hoped "all of you can continue your study and your learning tour not only towards China, but also other countries".
"And I think together we can make a better world, because one day you will be the American ambassadors, American consul generals, but even if you are not doing diplomatic work, you will be special envoys on behalf of the United Nations.
"The state-to-state relationship is not only the job of diplomats; it's also your job," Zhang added. "I hope we can work together to build a better world, and let's start with learning another culture and another language."
Michael Prayor, the superintendent of seven high school districts in Brooklyn, said that having Chinese-language classes not only enhances student exchanges between the schools and China, but also heightens student interest in different countries and cultures.
The event was supported by China's Ministry of Education, Confucius Institute (CI) Headquarters (Hanban) in Beijing, and the directors and teachers in CI in the New York area, including CIs at the China Institute, Pace University, Alfred University, New Jersey City University and others.