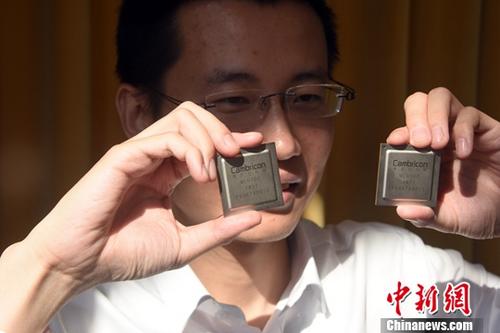 Chen Tianshi, Cambricon's founder and CEO, unveils the MLU 100, a cloud-based AI chip, in Shanghai, May 3, 2018. (Photo/China News Service)
Cambricon Technologies Corp Ltd, a successful Chinese startup specializing in artificial intelligence or AI chips, unveiled the MLU 100, a cloud-based AI chip, in Shanghai on Thursday.
This is expected to increase the unicorn's lead in a niche segment of the capital-intensive chip sector.
Cambricon's new chip outperforms traditional general purpose processors used in image and speech recognition technologies.
The MLU 100 is designed to make AI-powered applications more concentrated and scalable, said Chen Tianshi, Cambricon's founder and CEO.
It consumes less power, is compatible with various deep learning and classic machine learning algorithms, and meets the needs of technologies like visual, speech, and natural language processing.
Cambricon also unveiled 1M, its latest generation of terminal processors that can effectively speed up a variety of AI functions embedded in smartphones, speakers, security cameras and cars.
The 1M has a peak capacity of 5 trillion synapses per second and boasts higher integration density, making it ideal for many devices.
"Our task is to make intelligent processors more accessible to people and enable the whole world to adopt such chips in a variety of scenarios," Chen said.
At the joint launch ceremony, Lenovo Group, Sugon Information Industry Co Ltd and iFlytek Co Ltd launched systems or products carrying Cambricon's latest products.
"We would like to combine Cambricon's homegrown chips with Lenovo's platforms and channels to aid Chinese companies with their digital transformation," said Tong Fuyao, Lenovo's senior vice-president.
A neural processing unit or NPU handles AI workload, particularly excelling at image recognition tasks with an efficiency that greatly outstrips traditional processors such as the central processing unit or CPU, or graphics processing unit or GPU.
Huawei Technologies Co Ltd's Kirin 970 chip, which was developed to power its latest flagship smartphone Mate 10, has used Cambricon's products.
Cambricon was founded in 2016 by Chen Tianshi and his brother Chen Yunji. It is backed by the Chinese Academy of Sciences and several tech firms, and venture capitals.
AI applications will drive demand for chips capable of processing AI algorithms, according to a recent report by consultancy Gartner Inc.
AI and the cloud-based internet of things are two major areas where China's homegrown chips have a good chance of competing with global players, industry experts said.
"In light of the ongoing intelligence wave, companies that own enough data and run crucial AI-backed applications would have a competitive edge in producing smart chips," said Zhang Jianfeng, chief technology officer of Alibaba Group Holding Ltd, which is among the investors in Cambricon.