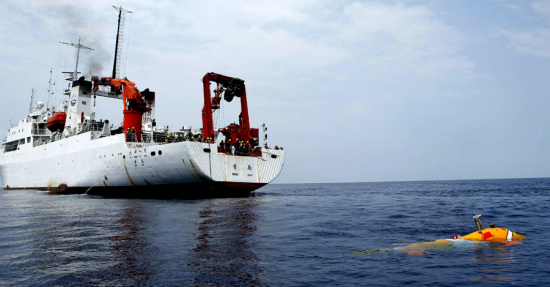 Qianlong 3, China's newest unmanned submersible, surfaces astern of its mother ship, the Dayang Yihao, or Ocean No 1, on April 25. The ship returned to the port at Qingdao after the 45-day trip, during which the submersible made 12 dives. (Photo/Xinhua)
Research vessel Dayang Yihao, or Ocean No 1, returned to its home port in Qingdao, Shandong province, on Thursday and "deep sea research facilities aboard the vessel displayed outstanding performance", according to officials and researchers.
"China's technological capabilities in deep sea research equipment design and manufacture have largely improved from research to final application," said Li Bo, an official with the China Ocean Mineral Resources Research and Development Association.
"This is the result of Chinese scientists' drive for self-innovation capabilities amid a longtime blockade on deep sea techniques developed by other countries," Li said.
The vessel's scientific ocean expedition started on March 20 and lasted 45 days, covering 6,208 nautical miles. The expedition was divided into two parts, with the vessel stopping in Xiamen, Fujian province, along the way.
Qianlong 3, China's newest unmanned submersible, was involved in the second part of the expedition, which began on April 15.
Cai Wei, the chief scientist responsible for the second part of the expedition, said Qianlong 3 finished four dives with complete success, adding it was not easy for the sea trials during two earlier dives, which aimed at testing its comprehensive performance and endurance.
The ocean craft completed a journey of 156.8 kilometers during its second test dive in the South China Sea in late April, setting a national record for the longest such voyage. Its endurance reached 42 hours, 48 minutes, when it traveled at speed of 2 knots.
The last two dives, tasked with carrying out scientific investigations on natural gas hydrate and polymetallic nodule zones, lasted 64 hours and covered more than 200 kilometers, acquiring an abundance of seabed photos and scientific data.
Cai said the last two dives launched a new mode of paralleling operations of self-made ocean craft and geological sampling equipment aboard, exploring the possibility of cross-regional operations for an underwater craft in the future.
"Qianlong 3's high-performance will improve our country's deep sea investigation capabilities and efficiency, and more original scientific results are expected to be gained in this area," Cai said.
During the first part of the exploration, Hailong Series submersibles played a big part. Hailong 3 made five dives and Hailong 11000 made three, reaching depths of 4,500 meters and 3000 meters in tests.
The tests showed that all parameters adhered to their designed standards, providing a solid foundation for final applications in the future, said Chu Fengyou, chief scientist for the first part of the ship's expedition.
This is the vessel's first scientific exploration after its overhaul in 2017. With its improved capabilities, the vessel is better able to work with other facilities and personnel management, according to the vessel's captain, Xu Weiwei.