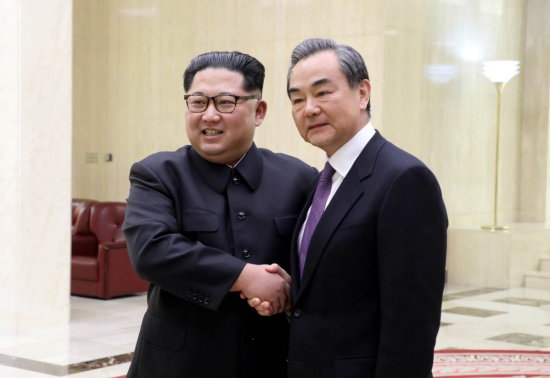 Kim Jong-un, top leader of the Democratic People's Republic of Korea, meets with State Councilor and Foreign Minister Wang Yi in Pyongyang on Thursday. Wang says Beijing supports the Korean Peninsula's shift from armistice to peace as well as Pyongyang's shifting focus toward an economic buildup. (Photo/Xinhua)
Wang's visit to fulfill issues decided when Kim met general secretary
Beijing supports the Korean Peninsula's shift from armistice to peace as well as Pyongyang's shifting focus to economic buildup, State Councilor and Foreign Minister Wang Yi told Kim Jong-un, top leader of the Democratic People's Republic of Korea on Thursday.
Also, China supports the DPRK in resolving its security concerns in the process of denuclearizing the peninsula, Wang said in a meeting with Kim in Pyongyang before he wrapped up his two-day DPRK visit.
Observers said Wang's trip, following Kim's March visit to China and last week's summit, shows Beijing's constructive role in keeping the improving peninsula situation on track. Kim and Republic of Korea President Moon Jae-in held a summit on Friday and signed a joint declaration on improving inter-Korean relations.
Wang said Pyongyang evaluated the situation, made resolute decisions and navigated toward positive changes.
China supports and sends congratulations on the successful summit as well as the declaration's release, which create opportunities for politically settling the peninsula issue, Wang said.
Kim told Wang the DPRK stays true to its position on achieving denuclearization, and the recent positive changes are conducive to a peaceful settlement of the peninsula issue.
The DPRK is ready to resume dialogues, build mutual trust and discuss eliminating the root causes of the threats to the peninsula's peace, Kim said.
Yu Shaohua, a senior researcher on Northeast Asia at the China Institute of International Studies, said China's efforts have been indispensable, as they ensure consistency, support dialogues and oppose potential turmoil.
"China's proposals maximize interests and address concerns of all parties in a balanced approach, … and it should further play a constructive role in resuming dialogues and denuclearizing the peninsula," Yu said.
Speaking of the Beijing meeting between General Secretary Xi Jinping and Kim in March, Wang said his Pyongyang trip aims to effectively fulfill the issues decided by the two leaders.
Kim said the bilateral friendship is a great legacy of leaders of elder generations, and his country will firmly cement and develop bilateral friendly cooperation.
The DPRK is ready to work with China to push their ties to a higher level — which speaks highly of China's contribution to the peninsula's peace — and is ready to reinforce strategic communication with China, Kim added.
DPRK Foreign Minister Ri Yong-ho told Wang that Pyongyang is ready to have greater bilateral exchanges between political and economic departments and boost pragmatic cooperation and cultural exchanges.