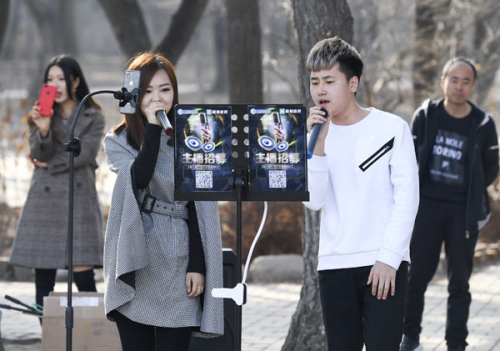 Young people livestream a musical performance from a park on March 25, illustrating the sort of content that meets ethical standards. (Photo provided to China Daily)
Social networking and streaming sites are coming under greater scrutiny and regulation.
The government is working to eradicate inappropriate content on the internet to ensure that the web remains free from obscenity and violent imagery, and to promote a healthy culture online.
Last month, the Cyberspace Administration of China, the national cyberspace regulator, ordered online news aggregator Toutiao and Kuaishou, a site that shares videos lasting about 60 seconds, to remove obscene and violent content and to close all accounts that uploaded such content.
The administration also closed about 5,000 livestreaming accounts hosted by minors-people younger than 18-and deleted about 300,000 video clips aired by livestreaming youngsters.
The move was aimed at closing loopholes in the operation of some online services, which have been criticized for attracting viewers without regard for rules or morality.
Recently, Kuaishou and Huoshan, a short-video application affiliated to Toutiao, have been widely criticized for allowing minors to spread "harmful" content.
Videos of pregnant teenagers or teenage mothers-usually unmarried and ages 13 to 18-appeared on the sites, describing their pregnancies or their lives as young mothers, and were forwarded to other sites in an effort to gain traffic and followers. That's despite the fact that sexual activity with people ages 14 or younger is defined as rape in China, while the legal age for female marriage is 20. Moreover, being a single mother does not accord with traditional values.
Senior executives at both companies pledged to close all livestreaming accounts hosted by minors within five days, intensify regulation of content and alter the values used to set the algorithms that decide which content should be promoted to users.
Growing audience
By the end of last year, there were 579 million online video viewers and 422 million livestreaming viewers in the country, according to the China Internet Network Information Center.
Meanwhile, according to a recent report from iiMedia Research Group, a mobile internet consultancy, short videos are becoming increasingly popular, with 242 million viewers by the end of last year, a year-on-year rise of more than 58 percent.
Viewers' reasons for watching the videos vary: more than 70 percent use them to kill time and relax, while approximately 42 percent said they also used them to obtain information, and about 21 percent were looking to make friends, according to the report.
"Cyberspace is not a lawless place because an online exchange is also a social relationship that must abide by the law and regulations," said Sun Jin, head of the Cyberspace Governance Research Institute at Wuhan University.
"We appeal to people to adopt higher ethical standards, but they must adhere to the law. Those disseminating videos of adolescent mothers are suspected of abetting illegal conduct and promoting bad influences on society," he said.
Moreover, users who upload "harmful" videos must assume joint responsibility with the sites that provide platforms that help to spread them, he added.
Yuan Gang, deputy CEO of livestreaming site Douyu, said there are rules governing the registration of minors on the site.
"We use facial identification methods for account registration and users must provide their ID cards. If they are under 18, they are not allowed to open an account. However, they are allowed to do so if they have written permission from their guardian. If the minors want to livestream, their guardian should aware of it," he said.