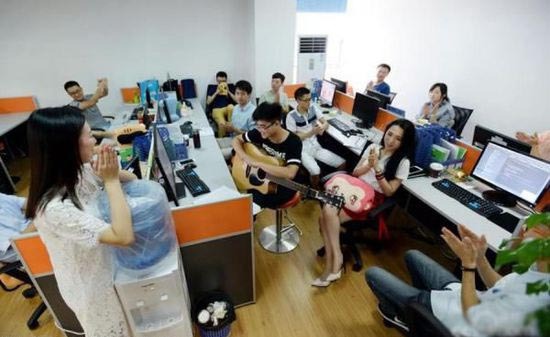 Programmer motivators organize an activity for coders during a break at an internet company in Chongqing, August 12, 2015. [File photo: China Youth Daily]
A New York Times report about Chinese female programmer motivators has again raised questions over sexism connected to the job.
"Programmer motivators," as the title suggests, play a role of cheerleaders who can encourage and support coders during their time in front of the computer. The job first appeared among certain Chinese tech start-ups which hired attractive women to give relaxing massages to and chat with male programmers. Motivators' responsibilities also involve organizing team outings and buying breakfast. The report contends that because coders are often stereotyped as "nerds" who are socially awkward, some tech companies recruit motivators to lure male developers and to boost employee work efficiency.
The New York Times article highlights 25-year-old Shen Yue, who holds a degree in civil engineering, but works as a programmer motivator at a consumer finance firm. A HR representative at the same company with Shen admitted to the Times that programmer motivators are hired, in part, for their good looks.
A Vogue article describes the New York Time report as "disturbing," and assumes the so called programmer motivator is "a thankless job." As a result, some on the internet have criticized the job requirements which ask for women to be attractive, saying it objectifies women. "This is SO incredibly sexist and wrong," wrote one person. Another person, said to be a Chinese person, wrote: "The word 'motivator' has sexual connotation. It's disrespectful to both programmers and females."
According to the Times report, some people, both men and women, do not think there is anything wrong with hiring women for being beautiful. Some people claiming to be men online are being quoted: "If there are more beautiful women, I'll be happier in my job. What's the issue?" And some people online saying they're women are also being quoted: "As a woman, I don't think this is a problem at all."
Shen Yue is also quoted as saying she has no problem with her job. "Many feminist ideas are too extreme now," she said. "I think women should be independent, self-reliant and have self-respect. And that's enough," she told the New York Times.
Currently seven companies in China are advertising for such jobs, mostly at smaller start-ups, according to the New York Times.