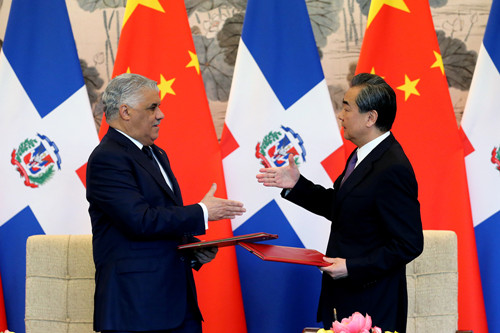 State Councilor and Foreign Minister Wang Yi and Dominican Republic Foreign Minister Miguel Vargas Maldonado seal the deal they just signed on Tuesday on diplomatic relations at the Diaoyutai State Guesthouse in Beijing. (Photo/CHINA DAILY)
China and the Dominican Republic established diplomatic relations on Tuesday after the Caribbean country officially announced its severance of "diplomatic ties" with Taiwan.
State Councilor and Foreign Minister Wang Yi and Dominican Republic Foreign Minister Miguel Vargas Maldonado signed the joint communique on ties on Tuesday morning in Beijing.
The Dominican Republic is the Caribbean country with the largest GDP, according to the International Monetary Fund, and it plays a big role in regional affairs.
The two countries have agreed to exchange ambassadors as soon as practicable and to offer assistance with the functions of diplomatic missions in their capitals.
The Dominican Republic said it recognizes that there is but one China and that Taiwan is an inalienable part of China's territory. It will no longer establish any official relations or official contact with Taiwan, according to the communique.
Wang said at a joint news conference that China speaks highly of the Dominican Republic's honoring and pledging commitment to the one-China principle and its attaching no precondition to diplomatic ties with China.
The establishment of bilateral diplomatic ties marks a new historical chapter, brings huge opportunities for the development of the Caribbean country, leads to potential unleashed in bilateral cooperation and thus tangibly benefits its population of over 10 million, Wang said.
Vargas said that his country is ready to enhance political trust and exchanges at all levels with China, cooperate with the country in areas like trade, investment, tourism and education and deepen multilateral coordination.
Vice-President Wang Qishan met with Vargas later on Tuesday, and they conveyed greetings between President Xi Jinping and Dominican Republic President Danilo Medina.
The establishment of diplomatic ties is in line with the trend of the era and serves the fundamental interests of both countries and their people, and China will further boost bilateral mutual trust, exchanges and cooperation, the vice-president said.
An Fengshan, spokesman for the Taiwan Affairs Office of the State Council, said upholding the one-China principle is a widely accepted consensus in the world, and the establishment of the ties lives up to both the common aspiration and the trend in the big picture.
China has become the country's second-largest source of imports, and according to China's customs data, annual bilateral trade reached $1.87 billion last year.
He Shuangrong, a researcher in Latin American studies at the Chinese Academy of Social Sciences, said China and the Dominican Republic are highly complementary in economy, and there is remarkable potential for bilateral cooperation that will bring economic benefits to the two peoples.
"The establishment of a diplomatic relationship and the good momentum of its cooperation represents the general trend and will set an example for other Latin America countries that maintain 'official' ties with Taiwan," she added.