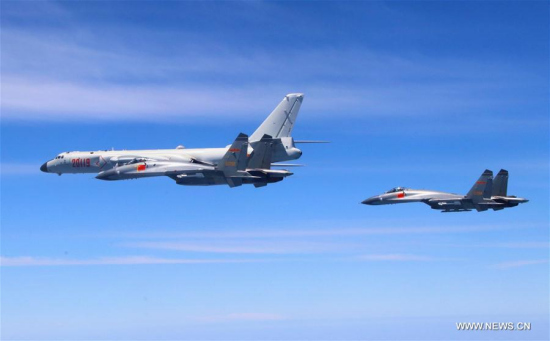 A Chinese People's Liberation Army (PLA) air force formation conducts island patrols during training on April 26, 2018. (Xinhua/Wu Yuepeng)
The Chinese People's Liberation Army (PLA) air force on Saturday released a promotional video and commemorative envelopes, recapping its recent flights over China's island of Taiwan.
The video was released in multiple languages including English, Japanese and Chinese dialects such as Minnan (southern Fujian) and Cantonese. The background music features several widely known Chinese patriotic songs.
The video is to let Chinese people of all ethnic groups, especially compatriots in Taiwan and overseas Chinese, understand that not a single inch of China will ever be separated from the motherland, according to the air force.
The photo and footage of the flights used in the video and on the envelopes are aerial shots taken by the PLA pilots during their cruising missions.
The inscription on the envelopes reads, "Taiwan, the Treasure Island, is harbored by our motherland. The motherland will always be in our heart. It is the sacred duty of any PLA pilot to safeguard the territory of our motherland."
"Every time we flew the H-6K bomber over the island, my comrades and I could clearly see the wonderful landscape of our motherland, before recording the scenes with cameras," said pilot Wu Yuepeng. "They're not only the witness to our efforts for a stronger country and a stronger military, but also witness to us carrying out missions in the new era."
"The island patrols of the PLA pilots were also to measure the landscape of China with flying trails," said Shen Jinke, spokesperson of the PLA air force.
He noted that the PLA air force had the resolve, faith, and capability to safeguard China's national sovereignty and territorial integrity.
Since April 18, the air force has conducted a series of island patrols, in order to exercise and enhance its capabilities to safeguard national sovereignty and territorial integrity.