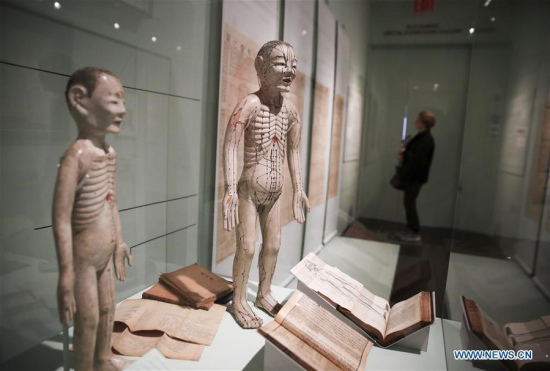 A visitor looks at exhibits during the press preview of Chinese Medicine in America: Converging Ideas, People and Practices and On the Shelves of Kam Wah Chung & Co. in the Museum of Chinese in America in New York, the United States, April 25, 2018. (Xinhua/Wang Ying)
Traditional Chinese Medicine (TCM) has traveled a difficult road toward legitimacy and integration in the United States, reflective of many aspects of the Chinese immigrant experience.
This is why the Museum of Chinese in America (MOCA) in New York City puts on two groundbreaking exhibitions, which run from April 26 to Sept. 9, attempting to trace the complex story of Chinese medicine in the country.
"Chinese Medicine in America: Converging Ideas, People and Practices" tells a cross-cultural story of Chinese medicine and practices in America through historical medical artifacts, contemporary art, and profiles on notable figures in Chinese medicine history to create an engaging space for exploring how medicine, philosophy and history are linked.
On the Shelves of Kam Wah Chung & Co.: General Store and Apothecary in John Day, Oregon, is an immersive historical exhibition that celebrates the medical practice of Ing "Doc" Hay who became a prominent figure in eastern Oregon after the California Gold Rush.
THROUGH LENS OF CHINESE MEDICINE
"I think it's important to celebrate the culture and history of the Chinese in America through the lens of Chinese medicine," Donna Mah, a faculty member of the Pacific College of Oriental Medicine in New York, told Xinhua at Wednesday's press preview.
"We have really worked hard to put together a prism to shine the light of Chinese medicine, and have Chinese culture and history sort of blasted in a beautiful rainbow on the wall," said Mah, guest curator of the exhibitions.
"By seeing how we treat illness and maintain our health, we hope visitors can learn about the ancient philosophical concepts that are the backbone of Chinese culture," said Herb Tam, MOCA's curator and director of exhibitions.
Only four states in America to date do not have legislation on professional practices of TCM. It has grown into an industry with 40,000 licensed therapists, and treats over 380 million patients every year.
Yet, until the 1970s, practising acupuncture in America could land you in jail.
This happened to Miriam Lee, an acupuncturist who treated patients in her Palo Alto, California home. She was arrested for practising medicine without a license in 1974, but many of her patients appeared at her trial to attest to the benefits of acupuncture.
Days later, Governor Ronald Reagan legalized acupuncture as an experimental procedure and 1976, it was officially legalized in the sunshine state.
Lee, who died in 2009 in Southern California where she lived after retirement, recorded her experiences in her 1992 book "Insights of a Senior Acupuncturist."