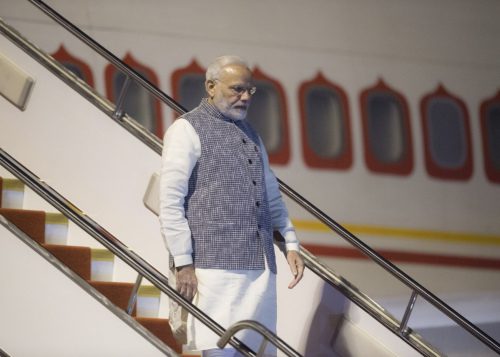 Indian Prime Minister Narendra Modi arrives in Wuhan, Central China's Hubei Province on April 27, 2018. (Photo/Xinhua)
Indian Prime Minister Narendra Modi is broadening his understanding of China by visiting yet another Chinese city.
Modi is expected to gain "a whole new experience" through his stay in Wuhan, the largest city in Central China, Vice-Foreign Minister Kong Xuanyou said at a news briefing this week.
Modi's first visit to China after taking office came in May 2015, when he stopped in Xi'an, capital of Shaanxi province, before moving on to Beijing and Shanghai.
The Xi'an trip became part of what has been dubbed "hometown diplomacy" between leaders of the two largest emerging economies.
In 2014, President Xi Jinping made a state visit to India, and Modi's home state of Gujarat was the first stop. During the trip, Xi invited Modi to visit his hometown of Xi'an.
The Indian prime minister traveled to Hangzhou, Zhejiang province, in Sept 2016 to attend the G20 Summit, and one year later to Xiamen, Fujian province, to attend the BRICS Summit, and met with Xi on the sidelines at both events.
Modi had also visited Guangdong province when he was chief minister of Gujarat.
Having set foot in eastern, southern, western and northern China, Modi is now adding Central China to the list with his visit to Wuhan, capital of Hubei province. The city is an important transportation hub for railways and inland waterways.
Companies in Wuhan have invested $2.04 million in four projects in India, and 1,312 Indian citizens were studying in Hubei province by the end of 2017, according to Hubei Daily.
After Wuhan, Modi will visit Qingdao, Shandong province, in June for the Shanghai Cooperation Organization Summit.