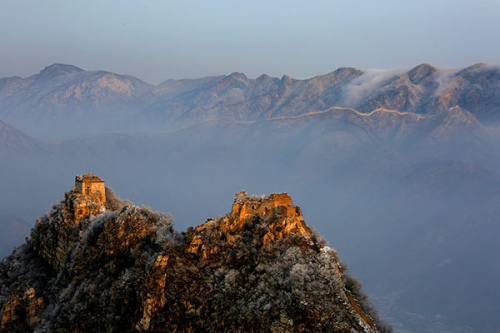 The Jiankou Great Wall in Huairou district of Beijing. (Photo/Xinhua)
Intel and China Foundation for Cultural Heritage Conservation reached an agreement on Wednesday to launch a project applying cutting-edge technology in preservation of a section of the Great Wall in Beijing.
The two sides jointly announced that they would use Intel's AI and drone technologies to implement the conservation project of Jiankou section of the Wall and thus protect the architectural heritage.
According to the plan, Intel's Falcon 8+ drones will inspect and perform aerial photography on the walls to obtain high-resolution images, especially on parts that are difficult for construction workers to reach, helping cultural relics preservers gain a clear and comprehensive understanding of the status.
And artificial intelligence algorithm will run processing imagery collected from the wall to detect flaws, cracks, and missing bricks, and further analyze and virtually re-construct 3D model, provide guidance for repairs and maintenance, and to provide forecast data for future work.
It is the first time that such a technology will be used in restoration of the Great Wall.
Jiankou is known for its steep terrain with overgrowth of trees. It is often referred as the most beautiful but the most dangerous section on the Wall.
Li Xiaojie, head of CFCHC, said repairing the Wall using traditional methods has faced many difficulties.
"The conservation of cultural heritage requires extensive participation of enterprises, the public and social organizations," he said.
Alyson Griffin, Intel's vice-president of global marketing, said the AI plus drone technology had been successfully applied on other occasions before.
For example, in natural sciences, it was used to explore the behavior patterns of polar bears in the arctic, providing wildlife and environmental researchers with accurate, reliable data, captured in a safer and more efficient way. It was also involved in a whale exploration program researching whale blow, which is seen as a leading indicator of our oceans and global health.
Separately, in collaboration with experts from a German institute, the Intel technology was applied to power inspections and damage assessment of a 15th-century cathedral.
The two sides also agreed to explore possibilities ushering the hi-tech restoration to other sections of the Great Wall after the one-year project finishes.