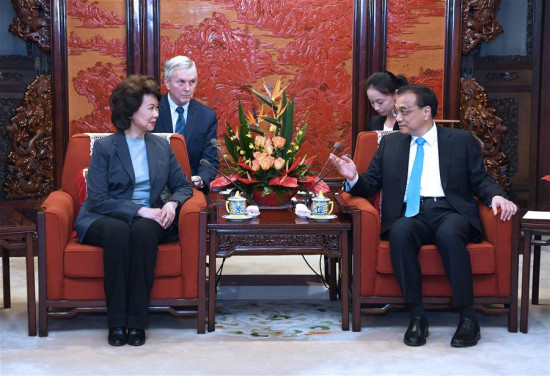 Chinese Premier Li Keqiang (R) meets with Elaine Chao, the U.S. secretary for transport, who is in Beijing for the ninth annual meeting of the China-U.S. Transportation Forum, in Beijing, capital of China, April 26, 2018.(Xinhua/Rao Aimin)
China values the willingness the United States has shown to address the current trade friction through dialogue and communication, Premier Li Keqiang said Thursday, adding that China's door for negotiation was always open.
Li made the remarks when he met with Elaine Chao, the U.S. secretary for transport, in Beijing.
U.S. President Donald Trump said Tuesday that Treasury Secretary Steven Mnuchin and U.S. Trade Representative (USTR) Robert Lighthizer would travel to China in a few days for trade talks.
Li said the essence of China-U.S. economic and trade cooperation was mutually beneficial and win-win cooperation.
"There is no winner in trade conflict, which will not only affect the recovery of the world economy but also the global industrial chain," he said, adding that solutions can only be found when both sides sit down for dialogue.
Li said it serves the interests of both countries to maintain a steady and sound growth of bilateral relations.
"It is also what the international community expects from our two countries," he said.
Li said President Xi Jinping had met and held phone conversations with President Donald Trump for many times, and both countries should follow the important consensus reached by the two heads of state and view China-U.S. relations in a "correct way."
"As the largest developing country and developed country in the world, China and the United States are highly complementary in the economy," Li said.
He expressed the hope that the two countries could "work together in the spirit of mutual respect, and equal consultation to increase consensus and manage and control differences."
"China will unswervingly open further to the outside world, which will unleash huge market potential," Li said, adding that he hoped countries including the United States would grasp the opportunities and benefit more from China's opening-up.
"China also stands ready to promote cooperation with the United States in transportation, such as autonomous driving," he added.
Chao, who was in Beijing this week for the ninth annual meeting of the China-U.S. Transportation Forum, congratulated China on maintaining an economic growth rate of 6.8 percent in the first quarter of this year.
The United States and China had fruitful consultation during the forum, exchanging in-depth views on safety, infrastructure and new technologies like autonomous driving, Chao said, adding that the United States looks forward to enhancing cooperation with China in related areas.
Noting that U.S-China relations were at a crucial stage, Chao said she hoped the consultation between two countries on economic and trade issues could yield positive results.