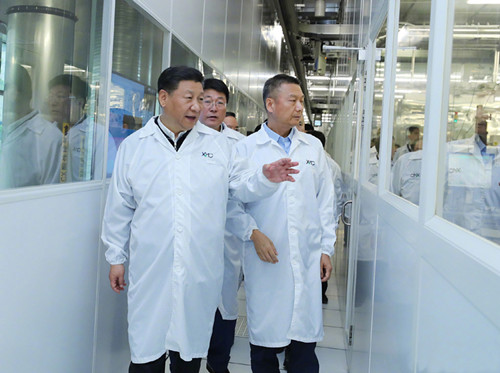 President Xi Jinping visits an integrated circuit production line at a technology company in Wuhan on Thursday. The largest city in Central China, Wuhan is a focal point in the economic belt being developed under the president's guidance. (Photo/Xinhua)
Top priority is protecting, cleaning the environment along the major waterway
Environmental recovery must be the project's top priority so the Yangtze River Economic Belt can develop into a golden belt with beautiful scenery and smooth traffic, President Xi Jinping said on Thursday.
Xi, also general secretary of the Communist Party of China Central Committee and chairman of the Central Military Commission, made the remark while presiding over a meeting to push the development of the economic belt in Wuhan, capital of Hubei Province.
Before the meeting, Xi had already spent two days visiting cities along the Yangtze River in Hubei and Hunan province, as well as made a stop at the Three Gorges Dam, to examine the environmental situation in the region.
Pushing development of the economic belt is a significant decision made by the CPC Central Committee and is important for the overall picture of the country's development, Xi said.
The economic belt covers 11 provinces and municipalities, including Hubei, Hunan, Shanghai and Chongqing, and is home to about 40 percent of the country's population and GDP.
The president said joint efforts are needed to protect the environment of the Yangtze River and he opposes over-exploitation of the river.
Xi pointed out that many problems and challenges remain in building the economic belt.
The environment must be made the top priority in developing the economic belt, Xi said, adding that great attention must be paid to the work of ecological recovery and environmental protection.
Protecting the environment does not conflict with economic development, Xi said, adding that whether the environment could be protected or not is decided by the economic structure and development mode.
Noting that developing the Yangtze River Economic Belt is a systematic project that needs long-term efforts, Xi required the relevant departments to make a clear road map and timetable to fulfill the goal.
Xi also highlighted the importance of pushing supply-side structural reform and build a modernized economic system to inject new impetus into the development of the economic belt.
During the trip, Xi boarded a ship and took a four-hour trip along the Yangtze from Jingzhou Port to Shishou Port.
After boarding the ship, Xi asked such questions about commercial traffic along the river, whether it is open to navigation at night, whether dangerous rocks along the navigation canal have been cleared and whether wastewater from the ships is still discharged directly into the river.
Local officials reported their work of clearing the navigation canal and protecting the dam of the Jingjiang River.
While inspecting a port at Yueyang, Hunan, on Wednesday, Xi said those engaged in illegally discharging pollutants must face strong punishment.