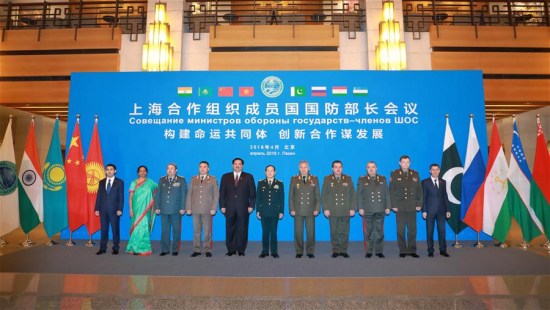 Chinese State Councilor and Minister of National Defense Wei Fenghe presides over the meeting of the Shanghai Cooperation Organization (SCO) defense ministers in Beijing, capital of China, April 24, 2018. (Xinhua/Liu Fang)
Chinese State Councilor and Minister of National Defense Wei Fenghe on Tuesday called on defense ministers from Shanghai Cooperation Organization (SCO) member countries to implement consensus reached by heads of state and continuously improve cooperation in defense and security.
Wei made the remarks while delivering a keynote speech at the 15th meeting of the SCO defense ministers, which was held Tuesday in Beijing.
Wei called on SCO member countries to stick to the principle of treating each other as equals, helping each other and sharing weal and woe, so as to build a security pattern of joint building and shared benefits in defense and security cooperation.
"We should continue to uphold the 'Shanghai Spirit', and strengthen pragmatic cooperation in high-level exchanges, joint exercises, military culture, education and training," Wei said, adding that joint efforts should be made to fight against terrorism and safeguard regional and world peace.
The "Shanghai Spirit" features mutual trust, mutual benefit, equality, consultation, respect for cultural diversity and pursuit of common development.
Defense ministers of SCO member countries said defense ministries and militaries should further enhance cooperation and work together to deal with threats and challenges.
They also signed notes of the meeting and a joint communique.
During the meeting, Wei met with defense ministers from Pakistan, Tajikistan, Kazakhstan, Kyrghyzstan and India, exchanging views on deepening bilateral military communication and cooperation.
Senior military officials from SCO member countries and representatives of SCO attended the meeting. The defense minister of Belarus was also present as a specially invited guest.