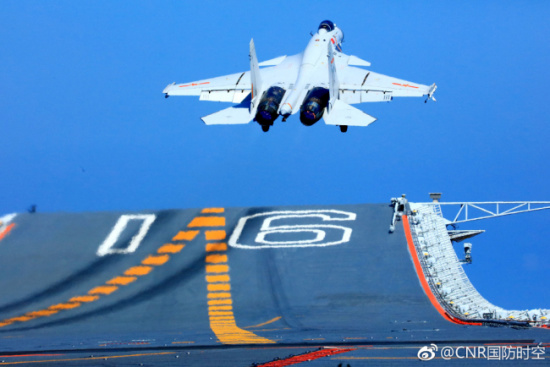 China's Liaoning aircraft carrier formation conducts exercises in the western Pacific on April 20, 2018. [Photo: China National Radio]
The Chinese aircraft carrier formation, featuring the carrier Liaoning, has undertaken live combat drills in the East China Sea.
On Sunday, the formation took part in anti-aircraft and anti-submarine warfare training with an "opposing force."
According to training commanders, upon detecting "enemy" aircraft using radar systems, the flotilla's ships swiftly changed positions and raised guns for defense. J-15 planes took off to intercept "enemy" jets.
Meanwhile, anti-air missiles were fired from ships surrounding the carrier.
In the anti-submarine drills, the flotilla successfully detected and dodged an attack range from "enemy" submarines.
Monday marked the 69th anniversary of the People's Liberation Army (PLA) Navy. More than 600 officers onboard the carrier Liaoning stood in formation on deck to celebrate the day by committing themselves to the cause of building a first-class navy.
Over the past ten days, the carrier formation has undertaken intensive live drills in at least three seas: the West Pacific, the South China Sea and the East China Sea.